Which Range is Right for Me?
by Guest on Mar 29, 2011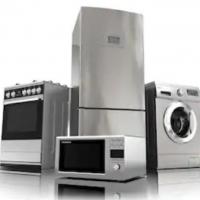 When looking for a new electric range, people always seem to wonder which is better: a gas range or an electric range. The answer to this question depends on you. Your likes, your dislikes, your favorite foods, and your lifestyle should all be taken into account when selecting a new range. First, think about the type of power that is available in your home; if you don't have a gas line, then you will have to choose an electric range. If there isn't enough power from your electric cables, you will have to choose a gas range.
Many people think of safety issues when they think of a gas range. They were once dangerous when used incorrectly, but new safety features make them nearly as safe as an electric range. The only additional safety feature that the electric range has is the red glow of the burners that indicate when it is hot. But don't let safety issues scare you away from a gas range or an electric range. The gas range and the electric range are safe to have in your home. You may also want to consider cleaning difficulty when choosing between a gas and an electric range. The coils on a gas range are harder to clean than the flat tops of an electric range, but neither is very hard to clean as long as you keep up on it and don't let spills stay on the burners for very long.
A very important thing to consider is the food you will be cooking most frequently on your gas or electric range. If you are going to boil large pots of water or deep fry things, then the gas range is going to be your best bet because it heats up faster than the electric range and the burners change temperatures almost as soon as you turn the dial. If you are just going to be frying things like french toast or pancakes, the electric range will take a bit longer to heat up, but it will get the job done just as well. If you like to bake, the consistent temperature that an electric range offers will be best for you.
If you can't decide between a gas range or an electric range, choose the one that best fits your needs. First, find out what power sources are available and it could answer the question for you. If not, decide which varieties of food you will be preparing most often and base your decision off of that. If these things don't help you make the decision, you can choose between a gas and an electric range based on style; choose one that will complement the rest of your kitchen.
It shouldn't be very hard to decide whether a gas range or an electric range is right for you. Just choose the range that will best suit your needs and your situation. Don't be afraid to try a gas range solely because you have only used an electric range before, both are safe and both will work sufficiently enough for any home chef.