Tips on Choosing a Convection Microwave
by Guest Post on Mar 29, 2011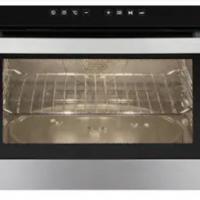 A convection microwave is an excellent way to go if you are looking to purchase a new microwave oven to replace your old one. If you don't know much about convection, you will be excited to learn how it works and how much of an advantage it can be, especially in a convection microwave.
Convection is the technology that allows hot air to circulate in such a way that the cool layer of air that normally insulates food in a conventional oven is forced away. Then the circulating hot air is able to evenly bake and brown food. In a convection microwave, this means that you can now bake, broil, and brown foods in addition to the traditional ability to reheat or warm foods. It also opens new doors to the possibilities that are at your fingertips. Now, even though your time is still limited, you can prepare healthy meals and baked goods quickly in the convection microwave rather than in the oven. For many people, the time savings alone is worth every penny spent on a convection microwave.
This brings us to the cost of a convection microwave. Shopping around is a good plan, but it is also important to have a baseline idea of how much a convection microwave oven will cost. The cost of a convection microwave depends on the size, model, and features included, but can cost a couple of hundred dollars over the conventional microwave. With the added ability to bake and brown foods, this may really be worth the difference.
A good tip to help you when choosing a convection microwave is to evaluate the reasons you are purchasing a convection microwave. If you only plan to heat or warm foods occasionally, this type of appliance does a very good job, but maybe a little pricey for the task. However, if you plan to use the convection microwave for cooking a variety of types of foods, then it will best serve your needs. People say that 'Time is money,' and that is especially true of the time you have available when you get home from work. It can be challenging to be able to prepare home-cooked meals for your family when you have a limited amount of time. However, with a convection microwave, you get the speed of the microwave and the cooking ability facilitated by the hot air circulation system.
Another tip for choosing a convection microwave is to know where you plan to put it. This will help you determine the size that will be best for your needs. In addition to placement, the types of food you plan to cook or even the microwave-safe cookware you own can contribute to the size of convection microwave that you choose.
Checking for ease of cleaning the convection microwave is another tip since it can be very important for it to be easily cleaned, especially if you have children or teenagers who will be operating it. Some people prefer a stainless steel convection microwave for this reason. By looking through these tips, you should be better prepared to make an informed choice when purchasing a convection microwave.