Benefits of Owning an Electric Cooktop
by Guest on Mar 29, 2011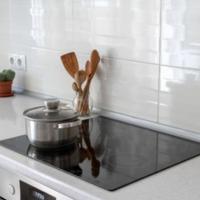 When electric cooktops were first invented, the average household didn't have its own electricity, so these new cooktops were slow to catch on.  However, years later, electric cooktops have become increasingly commonplace, replacing gas cooktops in many households where cooktops are valued for their ease of installation and cleaning, their cost efficiency, and their safety.

As more and more houses were built to accommodate electric appliances, cooktops and other kitchen appliances that use electricity became a popular substitute for cooktops that utilized gas.  Today, electric cooktops are popular because of their ease of installation when compared to gas cooktops.  While gas cooktops require a sometimes expensive and elaborate gas hookup, these cooktops simply require the correct electrical outlet, which is likely conveniently located in most kitchens.  A lot of times, this factor makes these cooktops the favorite of consumers who wish to save money by not having a gas line routed to the kitchen, making electric cooktops the popular option.

Another important factor in favor of most electric cooktops is its ease-of-cleaning.  This easiness to clean is due to the fact that most cooktops using electricity now utilize a smooth ceramic top in place of an exposed coil.  In cooktops with a ceramic surface, the face cools quickly, allowing you quick and easy access to the cooking surface which may have dirtied during the cooking process.  Unlike other cooktops that sometimes require removing parts like exposed coils to clean, cleaning ceramic cooktops is often as easy as wiping the counter.  However, be careful that you don't get burned!

Cost and efficiency are another important set of factors that often determine which cooktops are suited for the job.  In today's market for cooktops, most electric cooktops are very affordable and have several different options to choose from.  Therefore, if you are in the market for cooktops, consider going electric.  As far as operating costs, the viability of electric cooktops depends on the availability and price of gas in your area.  In some areas, gas is initially unavailable and therefore must be transported in and stored. This adds to the cost of operating gas cooktops, making electric versions the way to go.  Additionally, the price of natural gas is often widely variable, which could make operating gas cooktops cheaper or more expensive than equivalent cooktops.

One of the final benefits that owners of electric cooktops cite is the potential lack of safety issues involving the use of flames and gas.  Since gas cooktops rely on producing flames to heat the cooking vessel, there lies the faint possibility that this flame ignites something, causing a kitchen fire.   Furthermore, if this flame fails while gas cooktops are still on, the resulting gas can cause a catastrophic fire.  For many people, this is reason alone to choose the safety and affordability of electric cooktops as opposed to gas cooktops.  In the end, cooktops are an important part of our lives, and if these considerations are important to you, electric cooktops are the way to go. Always make sure to do your research before purchasing cooktops.