7 Steps to Successful Home Office Decoration
by Guest on Jan 27, 2011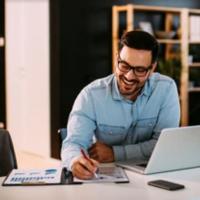 There was a time when most bill paying, correspondence, and other family business was conducted around the kitchen table. Ah, but the times, they are a-changing. With the advent of computers and high-speed Internet, you can now use online bill pay, make and update your family budget, find a new recipe for that roast chicken, do your shopping, and conduct research on the net. Even more remarkable is the fact that many of us now work wholly or partially from home as a more efficient way to earn our 'daily bread'. The kitchen table may no longer be sufficient to use as your office and you must look for a better solution. In the past, Mom may have had a reading nook, and sometimes Dad had a private den but with so much more activity by the whole family, you now need a real home office. Once a site has been designated you will want to make it as efficient and comfortable as possible.
On this note, here are seven tips for creating the ideal home office:
1. Who will be using your home office?
This is important for several reasons as you plan your home office decoration. Because it is important that every user feels comfortable in the office, age appropriate décor is one consideration. Maybe the kids aren't so young now but they still need a place they can do their homework and have internet access. Or perhaps they have flown the nest and it's more a place you or your spouse can spread out and fully indulge a new hobby.
2. Colors can be very important to your sense of well being.
Few of us function well in an all white, sterile type environment. The world around us is alive with color and each one seems to stimulate our senses in one way or another. So when choosing colors for your home office decoration scheme, consider the preferences of those who will use the office most; colors which make one feel comfortable and relaxed. Wallpaper or a fresh coat of paint is a good start. Add depth and contrast with wall art, brightly colored chair cushions, and/or carpeting.
3. Purpose, usefulness and longevity.
What you will use the office for and how necessary each item is should determine the type of furnishings you choose; how long you plan to use those items will determine cost and durability when selecting the furniture and equipment. Remember, cost is relative. The initial expenditure should be weighed against the quality and expected life of the item. Quality furniture and equipment definitely wins against shoddy workmanship and materials.
4. On the subject of furniture.
As stated in item 3, quality is important but this does not necessarily mean that you have to spend inordinate amounts of money to acquire what you need. You can buy home office desk furniture at reasonable prices without too much difficulty on the internet. Your home office decoration budget will dictate price, but your tastes in style, textures and colors will dictate your choices. Select items which are aesthetically pleasing, comfortable, easy to re-arrange, and functional. This will be even more challenging in a very small office. In those cases, more thought will be required and functionality will need to be addressed first. The items necessary to run your office efficiently do not always lend themselves easily to blending into your decorating scheme. This can be overcome though with careful arrangement.
5. Inspiration.
What inspires you most? What motivates you best to get you going? Since the purpose of the office is to allow you to do your work quickly, comfortably and efficiently, then your home office decoration scheme should promote those goals. Perhaps one wall adorned with your awards & attractively framed plaques will motivate you to achieve even higher awards. Whatever is relevant to your business or personal endeavors can be inspirational. You will have your own ideas; use them to best advantage.
6. Ambience.
Use live green or flowering plants, sound (like soft background music) and a scented candle to provide a pleasant atmosphere. An easy chair with chintz cushions, strategically placed in a corner is great when space allows
7. Let there be Light.
Your home office decoration would not be complete with proper lighting. It will be a big plus if you have a window with a pleasant view as it aids in the overall ambience but also helps alleviate eye strain. This will not be all the lighting needed though; proper lighting on or over a computer screen is a must. Overhead lighting can be decorative as well as efficient, and a floor lamp or table lamp placed by an easy chair is suggested. While these seven ideas are not all inclusive, perhaps they are enough to encourage you to get serious about planning your home office set up instead of just adding things at random. You know the old saying "Prior Planning Prevents Poor Performance"? Take it seriously, as pre-planning can save you lots of future headaches (and lots of money).