Maintain Your Roof in 6 Easy Steps
by Jeff Dobbs on Jul 18, 2018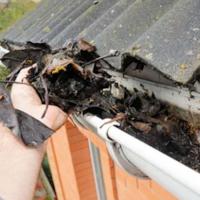 Many homeowners often forget that it's important to maintain their roofs. If you neglect to take care of your roof, you put your home at risk of critical damage. That being said, here is a quick guide to how you can maintain your roof in six easy steps!
1. Take Care of Shingles
Shingles play a key role in the health of your roof. That's why it's important to regularly maintain them. You should clean your roof shingles every few months. This will help reduce the dirt and other minerals, such as algae, that can build up and negatively impact your roof.
While you're cleaning the shingles, you should also look for any signs of damage. This includes scratches, cracks, and even missing shingles. If you notice any signs of damage, it's important to resolve the issue as fast as possible.
2. Use a Sealant
A roof sealant is ultimately what keeps your roof protected from various things, such as inclement weather. That's why it's important to make sure your roof sealant is in good condition. Like your roof shingles, if you notice any damage to your roof sealant, then you should fix it as soon as possible.  
3. Keep a Good Landscape
Trees that grow too close to your roof pose the risk of damaging your roof. This is because leaves can pile up on your roof and branches can scratch it. Also, if inclement weather hits, the trees could potentially fall on your roof and crumble it. 
In order to avoid all of these circumstances, maintain a good landscape. Make sure any nearby trees aren't leaning over, and that their leaves and branches are trimmed.
4. Check the Metal
If you have metal on your roof, you should make sure to regularly inspect it because metal tends to accumulate corrosion and rust when it's damaged. If you find any damage, such as rust, you should use a primer to clean it.
5. Don't Forget About the Gutters
Since gutters keep water from overflooding on your roof and surrounding landscape, it's important that they aren't clogged. Unfortunately, gutters can easily become clogged by leaves, twigs, and other items. If you notice your gutters are clogged, you should clean them as soon as possible and possibly consider hiring a professional to ensure there's no further damage.
6. Hire a Contractor
While maintaining your roof is important, it can be overwhelming. If you don't want to worry about the stress of maintaining your roof, hire a roofing contractor to take care of it. With a roofing contractor, you will be able to have peace of mind knowing your roof is durable and clean.