Redo Your Dining Room to Entertain Guests
by Guest on Nov 1, 2011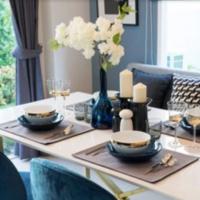 If you love nothing more than entertaining guests at your home, you should renovate your dining room.
The dining room is an important space in the house, particularly as your family and friends are likely to spend plenty of time sitting around the table there if they come to your home for dinner.
First of all, you'll need to decide how to decorate the space. Feature walls are a popular concept at the moment and that could be an idea you embrace fully in your refurbishment project. You can either use paint or wallpaper to achieve the effect, making sure just one of the walls in your room is decorated in a bright, bold or patterned manner.
If you do decide this is the best decorating idea for the space, you'll next need to choose some dining room furniture to complement it. If you've gone for bold colors, the best thing will be to find furniture which is in neutral hues so it doesn't clash at all. Wooden tables and chairs are probably the best ideas, as they are timelessly classic and stylish.
You'll probably need to have some other items in the room as well, just to stamp your personality on it. If you have a cabinet in the room, you can put all the plates and placemats in there when they are not in use. This will also be a great surface to display photos and trinkets on, so the room has a more personal touch to it.
To make the space unique, you could also design your tablecloths to go on the central attraction of the room. This will require a bit more creativity, but you are bound to impress everyone who comes to visit for a dinner party.