5 Major Benefits of Home Security Alarm Systems
by Rohit on Jun 15, 2018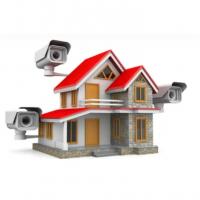 We all fret from thinking about home security alarm systems as we all know of the costs that come with them. However, we must also keep in mind what we might lose if we don't have one installed in our homes. These security systems can save not only your valuables from being robbed, but also save a life. Because of this, we are here to give you five benefits of installing security systems in your home and why you need one immediately.
1. Protection of Loved Ones
Homes with alarm systems aren't generally targeted by a burglar perhaps out of fear of being caught which makes you more likely to not be intruded on. What happens at times is, that the intruder may barge in expecting the home to be empty, if it isn't, it can promote violence. However, if the home has a security alarm system, you will be notified which will probably result in the suspect running away in fright. In the case of the intruder knowingly entering the home with cruel intentions, the members of the family have enough time to hide as well as call the authorities before anything bad happens.
2. Not Just Robberies
The instant stigma attached to security alarms is in the cases of burglaries or intruders. However, that is not the only scenario that these alarms can save you from. Fires in homes are often caused suddenly and without the presence of any notification alarm. You can save yourself and also your loved ones in case of a fire emergency. We are aware that some homes come with smoke alarms but, these security alarm systems can offer prior warnings, giving you time to evacuate the home in time. They do this by detecting signs of heat and not only smoke as smoke alarms do. Whether you've left the stove on or any other source of fire rising, these alarms use a technique like no other to prevent any unwanted tragedies from occurring and can be of great help to families everywhere.
3. Monitor Your Home
Many people are often afraid to leave their homes unattended whilst going on holiday or maybe out of town on business. However, with the installation of security alarm systems, you don't have to worry about that. Devices like monitoring security systems can keep watch on your home while you are away. Monitoring companies offer services to keep an eye on your home to prevent unwanted intruders or any other scenario that is unwelcome.
4. Homely Peace
There's nothing like living in your own home amongst your family without any worries regarding your safety. Home security alarm systems do just that. This way you don't have to press the panic button of your brain every time. Knowing that your home is safe and protected from unexpected and unwanted intruders is the best feeling. This advantage can appeal especially to the elderly, as they are unable to defend themselves from intruders and are usually the main culprit of burglary because of this.
5. Remote Supervision
Relating and coming back to benefit number three, there are perks of leaving your home attended by a home security alarm system as you can monitor it remotely through your mobile device. In today's world of constant technological advancement, some alarm systems provide the luxury to a homeowner so he/she is able to monitor the home through cameras that are connected to his/her mobile device.