Decorating and Furnishing a Small Formal Dining Room
by Jessica Ackerman on May 23, 2010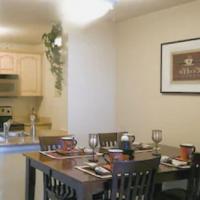 Making the Most of Available Space
A formal dining room is a valuable addition to any home, even if the dining room is small. It is a separate area from the rest of the home where the family can gather for intimate meals, and where guests can be entertained in the formal style. When well decorated it provides a space that is sure to impress, and it will be a place where friends and loved ones want to spend time. Consider the following tips for decorating and furnishing a small formal dining room, and get started on transforming your small formal dining room into a room with great style and functionality.
Wall Color Options
When a room is small, painting walls with a sheen that reflects light will help make the space appear larger. Select satin paint for dining room walls, and choose a light cool color that will help make the area look more spacious. To add the illusion of height to the ceiling, paint it white to visually draw it upwards. Painting the ceiling the same color as the walls can also help add visual height to a small formal dining room and considerably increase the appearance of size before decorating walls with eye-catching accents and other decors.
Before deciding on a specific color when decorating a formal dining room, select a brand of paint that offers small samples, or purchase a quart instead of spending money on gallons of a color that might not look as good on walls as it does on the paint chip sample. Paint a large poster board, and allow the paint to dry completely before considering the hue. Place the painted poster board next to windows, flooring, and furniture, and view the large sample under various levels of lighting before making a final and very important decorating decision.
Decorating with Light
Before choosing to light when decorating a small formal dining room, consider the size of the room. A pendant fixture or a chandelier that is too large will overwhelm the room, and a fixture that is too small will look out of place. For the best distribution of light when decorating a small dining area, choose a formal chandelier of medium size, and install bulbs that will provide enough light to enable diners to comfortably view their food as well as the details of the room. A chandelier illuminates upwards, and once the light reaches the ceiling it moves downward to illuminate the space below while providing just the right amount of radiance.
Furniture Arrangement Tips
Fine furniture is impressive - unless it is placed in an overcrowded room. When a dining room is small, choose furniture wisely when decorating, and opt for an adjustable dining room table with removable leaves. A width of at least two feet should remain in the back of each chair when it is pulled out to accommodate seated guests. In addition, if the space is not large enough for decorating with a buffet and any other extra furniture, resist the urge to fill every square foot of extra space in the dining room. Look for other decorating methods for displaying fine china and collectibles. A formal dining room is meant to be elegant yet comfortable, and when it is overcrowded and guests cannot easily walk around chairs and other furnishings, it is time to do a little downsizing and opt for more creative decorating options.
Curio Cabinet Substitute for a Small Room
A curio cabinet makes a lovely and interesting addition when decorating a formal dining room, but in a small area, floor space is highly valuable. Instead of taking up floor space with a freestanding curio cabinet, take advantage of vertical space with the addition of elegant hardware and elegant glass shelving. Install recessed or another wall lighting above a glass shelf wall display for a highly impressive collection that will add considerable decorating appeal in a formal dining room.
Decorating a Wall with Mirrors
Beautiful wall mirrors are a must when decorating a formal dining room, especially when the area is small. Besides adding interest and designer appeal to walls, they also help visually expand the dining area. Mirrors reflect light and add the illusion of square footage. Select one large wall mirror or a series of large wall mirrors when decorating a dining room, and create an accent wall that will widen the look of the small room. Continue decorating the focal point with a pair of wall planters filled with trailing artificial vines and flowers that will coordinate well with the decorating scheme of the dining room.
The completed formal dining area will look larger than it is, and it will make a highly impressive statement. Family and guests will enjoy the ambiance and formal decorating scheme, and it will become one of the most popular areas of the home. More importantly, it will be a space to connect and reconnect with loved ones and friends, and the decorating techniques will serve as an amazing expression of your individual style and creativity.