Using a Convection Microwave
by Guest Post on Mar 29, 2011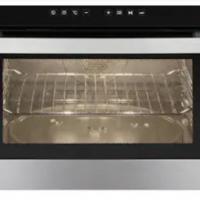 There are many enhancements that a convection microwave has when compared to a gas or electric oven. The most noticeable is the fact that the cooking process is sped up while the cooking results are not compromised. Using a convection microwave allows one to maintain the freshness and quality of the foods being prepared.
When they were first introduced, convection microwave ovens were fairly expensive and were considered to be high-end appliances. However, with their growing popularity and the improvements in technology, they are becoming more affordable all the time. The price will vary with the different features that are available on the different models of convection microwave ovens. You may prefer the type that includes a grill or those with a high rack for two levels of cooking. A turntable is practically a must for a convection microwave, as this will work with the circulating air for even cooking. Many convection microwave ovens come with automatic settings that will help to compute the baking times and temperature settings depending on whether you want to bake, broil or roast your food. Some convection microwave ovens use interactive digital displays and others use more conventional knobs and push buttons.
Some features are pretty standard on convection microwave ovens, such as an interior light or an exterior clock. The method for opening is something you will want to look at. Some people prefer a push button for an opening while others like to pull the door open manually. Another feature to consider is the number of watts. Watts equates to power, and a more powerful convection microwave will have up to 1300 watts, while a less powerful one may have 500 watts. The size of the interior makes a difference depending on what you plan to cook, and the exterior size may depend on where you need to put it. You can put a convection microwave over the range or on the counter, depending on your preferences.
In addition to size, you may want to choose the color that works best with your current kitchen appliances. Certain materials are also easier to clean, so you may want to consider that when purchasing a convection microwave as well. Representatives in local appliance stores will be able to help you understand all of the features of the convection microwave so that you can make a well-informed choice.
Your convection microwave will come with step-by-step instructions on how to use it. This eliminates the worry that you may not know how to convert your favorite recipes for cooking with a convection microwave. Detailed information on the cooking process and recipes may also be included. You will learn how to use your convection microwave for roasting, grilling, baking, and browning the same foods that you currently use in your gas or electric oven to cook. The bottom line is that you will be able to cook healthy foods with a minimum of time expended when you use a convection microwave. You won't have to sacrifice taste, color, or texture for speed.