Bathroom Cleaning Tips for a Rental Inspection
by Elesha Piper on Oct 4, 2018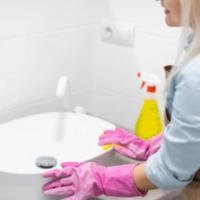 Does anyone actually love cleaning the bathroom? It's one of those chores most of us put off until it has to be done. For those renters out there, you can't put off cleaning the bathroom when a rental inspection is around the corner. Your estate agent or landlord will be scrutinizing your bathroom with an eagle eye.
Here are some easy and mostly natural bathroom cleaning tips to take the pain out of tackling one of the dirtiest areas in your home.
Toilet stains
If the toilet bowl is stained, try using plain distilled vinegar to remove them. Vinegar is an eco-friendly solution that cleans bacteria, germs, and mold.
Soak some paper towels in the vinegar then place them on any stains higher than the watermark. Leave them on for a couple of hours and remove (with gloved hands!)
Pour 1 cup of distilled vinegar directly into the toilet to lighten and remove stains below the water line and scrub with your toilet brush. Leave for a few hours and flush.
Shower scum
To tackle nasty soap scum and grime in the shower, fill a dishwashing wand with half distilled vinegar and half liquid soap. Scrub the bath and shower area with the wand, it's quick and easy and can be done while showering!
Hard water stains
If you've got hard water stains around the base of your taps, soak a dishcloth in distilled vinegar and wrap it around the tap. Let it sit for 30 minutes then remove. Grab an old toothbrush and scrub at the hard to reach places then rinse off with clean water. Your taps will be shining.
Bathroom Grout
This can be a tough one. Mix 1 part undiluted bleach with 2 parts water. Grab a toothbrush, dip it into the solution and then scrub the grout. Be thorough so the bleach really seeps in, leave for around 30 minutes to give the bleach time to absorb, then rinse the area with clean water. Make you rinse thoroughly, you don't want any bleach residue coming in contact with your skin next time you have a shower.
Mirrors
A clean mirror really can really make a huge difference in your bathroom and this is a great natural method to get yours sparkling.
Combine half a cup of water, half a cup of white vinegar, and 1 tablespoon of cornstarch in a spray bottle and shake to mix well. Spray onto the mirror, top to bottom, and wipe down with a microfibre cloth. Don't use paper towels, they leave lint and streak marks.
Showerheads
It's easy for showerheads to get caked with calcium buildup, the severity of this build-up depends on how hard the water is in the area you live in. Not only does it look terrible, but it can also interfere with the water pressure of your shower.
Once again, it's vinegar to the rescue. You'll need a sandwich bag, rubber band, distilled vinegar, and an old toothbrush.
Fill the bag halfway with vinegar, put it around the showerhead - so it is submerged in the vinegar, then secure it with the elastic band. Soak for a few hours or overnight. Scrub any of the remaining gunk build-up with the toothbrush and rinse with clean water.
Getting your bathroom in shape for a rental inspection is tough but with these tips, you'll be able to conquer it.