4 Tips to Help Homeowners Choose the Reputable Roofing Contractor
by Anees Saddiq on Apr 3, 2019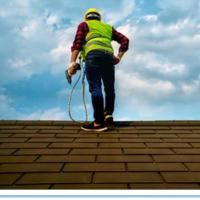 The choice of a roofing contractor is as important as it is difficult. The position and purpose of a roof make the need to keep it in pristine condition a top priority. Whether the need spawns from routine maintenance or post-storm repair, there are quite a few considerations to be made before arriving at your ultimate decision.
Proof of Insurance
Encapsulated within the type of work done by contractors is the possibility of injury. Should an injury occur, a contractor's insurance (or lack thereof) is a fundamental factor that determines how compensation and treatment are handled. Depending on the applicable state laws of your location and the variables that lead to an accident, the liability in such situations can lie solely with you. To avoid this, it is recommended that you investigate the contractor's insurance policies. The idea is to ensure that the contractor has insurance provisions for the possibilities that may occur and that the period of work is covered by the same.
Proposal
Understanding the expected responsibilities and commitments of the contractor and understanding the expectations of you, are two things that build your confidence in hiring a contractor. Any good contractor should submit a proposal for the required job. If not, they should at least submit a contract for signing prior to the beginning of any work. Having this in writing not only provides a point of reference should any disputes arise, but it also lays out important aspects of the job such as:
Daily work times
Length of project
Materials to be used
Payment amount and schedule
Quality assurance procedures
Clean up obligations
Reputation Verification
Past experiences of customers can be used to gauge the abilities and conduct of a contractor. This information can be obtained through reviews and research. 
As a rule of thumb, you can easily get basic information such as a physical address, an e-mail address, a contact number, and a tax identification number from any reputable business. Such businesses typically also have a website to provide you with a window into their operations.
Material diversity and affiliation
A good contractor usually offers a variety of roofing material choices. If this is not the case with a contractor you are considering, chances are the contractor is not an authorized installer for various materials or the contractor is simply not concerned enough with your interests to offer the freedom of choice. You should ensure the contractor is authorized as not only does it indicate proficiency, but it means manufacturers of the materials are willing to honor warranty policies.
Choosing your roofing contractor should be carefully done and you should consider all the factors listed above. The most important thing is for you to not rush into a commitment. Take the necessary time you need to review the available information to save yourself a headache in the future.