Tile and Grout Cleaning: What You Need to Know
by Tony Danza on Oct 13, 2022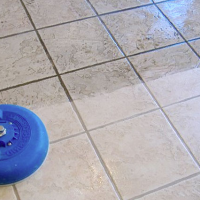 Keeping your porcelain or ceramic tile and grout clean can be a daunting chore. Just mopping your tiles floors alone won't keep the tiles from getting dirty. We are going to go over several things to keep them cleaner longer, as well as choosing the right tile and grout cleaning professionals when doing it yourself just isn't working anymore.
A few things you can do to slow down the buildup of soil and grime on tile floors is by adding indoor and outdoor floor mats to help in removing debris from the bottom of shoes. Good mats with brushes or bristles can help get the grime off before anyone walks in. In addition to floor mats, having a shoe rack near the entrance of the home would also be beneficial to keep people from tracking debris all over the tile floors. 
This may not be easy when having guests visit your home but getting the household to practice these routines will slow down the progression of biofilm and debris on your tile floors. The next step when cleaning your tile floors would be to sweep the floors before cleaning. This would help remove loose debris from the surface of the tile. Once this step is completed, the ceramic and porcelain should be vacuumed with a hard surface vacuum. Be careful doing this as the wrong vacuum can scratch the surface of the tile.
Once all the prep work for the floors is done the next step is to get your floors cleaned. Due to the possibility of ruining your tile or removing the protective glaze, we recommend you use manual cleaning solutions as opposed to floor machines you can purchase. The reason for this is that these machines can cause damage over time and can appear during a professional floor cleaning. The cleaning solutions sold in stores are usually not formulated properly which can spell disaster for inexperienced consumers who don't have the training or experience in their use.
Though steamers can kill bacteria from your tile floors the very hot steam can ruin the glaze on your tile over time. Steam isn't effective in keeping your floors clean but can help dislodge grime from your grout. If you decide to use this as part of your floor maintenance be careful as this will cause damage if not properly used. A mop frequently used such as a zero-waste mop causes the grout to get dirtier faster. This is because soil and debris get pushed into the grout lines. Homeowners rarely vacuum the tile floors before mopping them causing the soil to become wet and stick to the grout.
We recommend you clean your tile floors with a neutral floor cleaner. This is easily found in hardware stores, your favorite discount store, or Amazon. Neutral floor cleaner is not acidic or highly alkaline. High alkaline is known in the tile floor industry to remove the protective glaze from tile giving it a blotchy look. This is especially true from newer tiles purchased between 2018 and to present. Many professionals believe the most problematic tile is coming from China, where high standards are not adhered to.
Once damage to the top of the glaze occurs there isn't anything that can fix it. This has become a huge problem for professionals and homeowners alike who have caused thousands of dollars worth of damage. A blotchy appearance on the tile is highly noticeable and annoying. It is best to not use those products altogether and use a neutral floor cleaner that won't cause damage. Once your tile and grout become so dirty that basic cleaning and maintenance can remove it it's time to call in the tile cleaning professionals.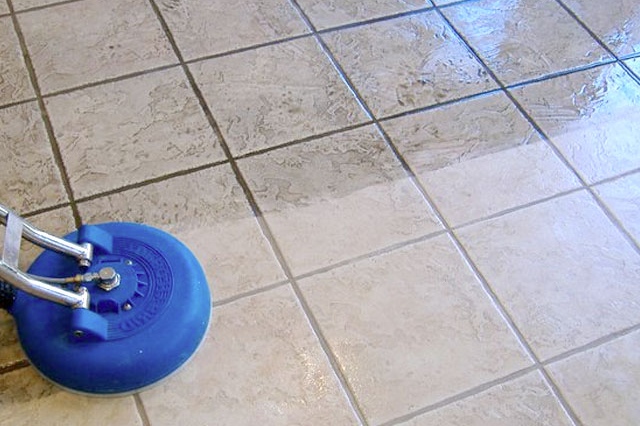 Those DYI videos where people use acids or bleach to clean their grout are actually causing long-term irreversible damage. The acid will continue to erode grout even after it has been wiped or mixed with water. This is because acid needs to be neutralized and most don't have the know-how on how to properly do it. Another product customers try to use is bleach. Bleach does not clean your grout. The light appearance after the area has dried is because its bleached.
Not only is bleach harmful it too will ruin your grout. If you end up bleaching your dark grout the damage caused is also irreversible. You will need to have the area regrouted to have a uniform color or have it professionally color-sealed. Color sealing is where a professional cleans the tile and grout and then paints the grout to a new or original color. The problem with this is the paint will flake off over time and you will have to have it professionally color-sealed for the lifetime of the tile to keep it looking good. You can never remove all of the color-seal later if you decide you don't like it.
Finding the right tile cleaning professional without breaking the bank isn't hard if you follow some of our advice. The first step to finding the right professional is to reach out to family and friends to see if they have any recommendations. The next step would be to utilize your favorite search engine to begin a search and read reviews of those companies. Try looking at each review to see if they are genuine or fake.
You can spot fake reviews if you click on the profile of the reviewer and see that they have given reviews to companies all over the country. Some people do own several homes and they can be legitimate. If all the reviewers for that company seem to be giving reviews to other companies in other states chances, are those reviews are fake.
I would compile a list of the tile and grout cleaning companies and contact them to see if they will provide free estimates. Try to find local companies to do this as companies located outside of your area most likely won't want to travel more than fifteen minutes. Gas prices and insurance is expensive. It isn't always beneficial to a company to drive far to give a free estimate when the customer in the end probably won't go with that company. It wastes their time and yours and is best avoided.
Next, you should do your due diligence on the company and check out the BBB and local or state licensing authorities to see if the company is licensed or has had any issues in the past. Once you locate the company that will be doing the work, ask them to provide you with a copy of their insurance. This will help you avoid issues in the long run and you can have peace of mind knowing you're using the right company.