Four Advantages of Using Commercial Cleaning Equipment
by Guest Post on Feb 27, 2016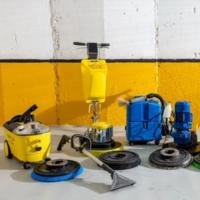 No one likes cleaning, especially when it comes to the working place. People want to come, work and go home to care about that space. This is why the issue of cleanliness is so important for commercial spaces. However, according to business owners today this is not a problem owing to the modern technologies and commercial space cleaning machines. So there is no secret that even professional cleaning services have several machines in their arsenal to offer the best service.
A lot of young business owners still do not understand and accept all the benefits commercial cleaning machines can offer. And this is why in this article we will present four reasons for using such equipment as automatic scrubbers, carpet extractors, vacuums, floor sweepers, etc. You will learn about the proficiency, Eco-friendliness, maintenance, convenience, and availability of these industrial machines.
Proficient
Modern makes of commercial cleaning equipment are designed to clean large areas in one go which makes them extremely effective. Moreover, operators do almost nothing because they only drive machines and do not perform any hard work. It means that operators will work for a longer time and with less harm to their health and so will clean larger areas with the help of floor sweepers, scrubbers, vacuums, etc. Statistics say that cleaning efficiency increases by almost 100 percent if compared to manual cleaning techniques.
Eco-friendliness
Modern cleaning machines require much less energy to operate and they also use significantly fewer detergents to clean your space. It means that you not only save money on the energy bills but also consume less energy and detergents for cleaning your commercial space. If you care about the environment then such machines as automatic carpet extractors or floor scrubbers should be a must-have in your working environment.
Convenience
The modern world of business is hectic itself because of the constantly changing environment and tasks. So in such tough work conditions no secret that staff management does not take the first place. If you have your own company's cleaning staff then you need to always control their paychecks, their work quality, make sure they do not interrupt other workers during the working day, etc. It implies many things to care about, whereas if you have professional cleaning equipment at your disposal, the only person you will have to deal with is an operator and several watts of electricity. It means that you save your time, and money and can transfer your attention to more important things at work.
Availability
This is not an issue at all, because modern cleaning machines can be found everywhere. First of all, you can contact the manufacturer directly and order several machines for your needs. At the same time, you can check the market for the used options. For example, today Tennant floor scrubbers can be easily found for sale in many stores simply because they are not the latest models of the row. And finally, if you do not want to deal with all that things yourself, you can just hire cleaning services who will help you find the right machine and operator to set you free from any deep information.
Business owners, who already enjoy all the benefits of industrial machines, say that this is a one-time investment that can make you and your business a world of good. These machines will help you save a lot of time and money, raise the effectiveness of your working process, and of course make the working environment a better place to be for your workers with the least money and effort.