Damaged Concrete Repair Tips
by Guest on May 14, 2012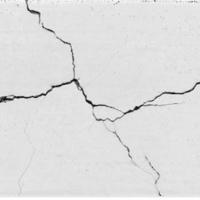 Concrete is certainly one of the most durable building materials, but it's not indestructible. Over time, stains, cracks, and flaking can ruin the looks of a structurally sound concrete driveway, walkway, or patio. The good news is that concrete repair and resurfacing are easier and more cost-effective than wholesale replacement.
Cleaning and Staining Concrete
Many different substances can stain concrete, from soft drinks and candy to motor oil and rust. Effective stain removal begins with matching the cleanser to the stain. Scrub food stains with hot water and soap. Or cover the spot with a wad of cheesecloth soaked in a solution of one part glycerin, two parts isopropyl (rubbing) alcohol, and four parts water. Keep the cheesecloth in place until the stain is absorbed. To get out a motor-oil stain, saturate it with paint thinner, then cover it with cat litter. Leave the litter in place overnight.
Repeat the process if the stain persists, then scrub with a strong cleaner. Finally, apply full-strength chlorine bleach, wait 15 minutes, and rinse it off with water. Another option is to use a premixed concrete-degreasing solution, such as Quadrate's Concrete and Asphalt Cleaner or Concrete Cleaner and Degreaser. Remove rust stains with an acid solution. Mix 1 lb. oxalic acid in 1 gal. water. Be sure to wear rubber gloves and goggles. Apply the solution to the stain, let it soak in for two hours, then rinse with water. Old stains may require several treatments before they disappear completely.
To change the color of a dreary or worn-looking concrete slab, try staining it. Unlike paint, it won't wear off with the foot or tire traffic. To apply concrete stain, first, neutralize the pH of the concrete with a process called acid etching. Start by applying a solution that's two parts water and one part muriatic acid (available in marine stores). Allow it to sit until the bubbling stops. Wear rubber gloves and goggles, and avoid splashing the acid solution onto your skin. Rinse the concrete with water and allow it to dry. Then apply the stain with a paint roller.
Scaling and Resurfacing
Surface damage to concrete, such as scaling and flaking, is usually caused by deicing chemicals or water that has seeped into the concrete and frozen. To repair a scaled surface, apply a thin cement overlay. One such system includes a patching compound for deep voids and a resurfacer that's applied as a thin coat. You can also hire a concrete contractor to apply a special-formula thin overlay, such as A-300 Pourable Outdoor Concrete Topping from Ardex Engineered Cements. Make sure the contractor has verifiable experience in applying overlays.
Another option is to have a contractor install pattern-stamped overlay concrete. To apply it, the overlay concrete is first poured on. It can be colored to imitate brick or stone. Then as the concrete is hardening, a pattern is pressed onto the surface, leaving impressions shaped like bricks, cobblestones, slate or other shapes.
Concrete sealers are purported to prevent surface damage. They have to be reapplied every few years depending on the product and the conditions. Cement Association, says that concrete sealers can provide a surface that's resistant to de-icer scaling. But adds, "No matter how good a sealer is, it will eventually wear off and be ineffective. "Sealers reduce the tendency for staining fluids like oil and antifreeze to absorb, and some sealers produce a shiny surface, which may be more attractive."
Broken Areas
Repair small broken areas in a slab, curb, or step with standard concrete or a concrete patching product such as Quadrate Vinyl Concrete Patcher, First brush away dirt and loose debris. Next cut the edges of the damaged area with a cold chisel to a depth of at least 12 in. (feathered-edge patches tend to crack). Then, if you're using standard concrete, apply a Concrete Bonding Adhesive. Otherwise, apply the patching compound according to the instructions printed on the package.
To repair a step, use a special epoxy to bind the old concrete to the new. One such product is Top Bond No. 40 from Nox-Crete. If you're using a patching product, make sure it's compatible with epoxy. First, measure the broken area. If it's more than 2 in. deep or 1 ft. long, install short pieces of 12-in.-dia. metal reinforcing bar. Use a drill fitted with a masonry bit to bore holes in the old concrete to a depth of at least 3 in. Slip the rebars in the holes and secure them with epoxy. Then install wood forms around the damaged area. Pour epoxy over the entire broken area, followed immediately by fresh concrete or patching compound.
Cracking and Settling
Concrete will crack and settle because of expansion, contraction, or ground movement. First eliminate weeds growing in the cracks with a weed killer, such as Roundup. Then use a caulking gun to inject concrete caulk, such as Quadrate Concrete Repair Caulk or Gray Concrete Crack Seal, into the crack. If there's a protruding lip on one side of the crack, the slab may have heaved or sunk. The easiest way to get rid of the lip is to hire a concrete-sawing contractor who can cut away the lip. Otherwise, the best approach depends on what has caused the problem. If a large tree root has heaved the slab, first break out the concrete. Then cut the root, remove it and pour a new slab. To level a sunken slab, jack up the low side. For a small slab such as a sidewalk, first bore several 1-in.-dia. holes within 12 in. of each other through the lower side of the slab. You may have to rent a heavy-duty hammer drill and masonry bit. Then pry up the slab with a strong lever, such as a 4x4 or a steel bar, until it's level. Next mix cement, sand, and water to a pourable consistency and fill the holes with it. For large slabs, hire a concrete contractor. To help prevent future settling, inspect the drainage along the slab edges. Redirect water away from these areas and fill any accessible voids beneath the concrete with gravel.