What are The Advantages of Using Structural Steel?
by Boris Dzhingarov on Jun 9, 2014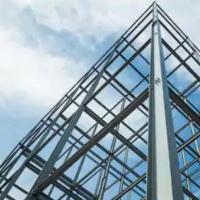 There are many different ways in which a building can be constructed. We can use so many materials during the construction process. No matter what we want to build, it is inevitable not to think about the steel component. Nowadays steel is utilized in many different projects and is commonly referred to as structural steel. That is because it is a special type of steel that will be built according to various important factors like chemical composition, size, shape, strength, and cross-section. Just as with all specialized construction elements, steel that is used in construction has various benefits. That is what we will talk about below.
Structural Steel Is Flexible And Strong
Steel is seen as one of the most flexible and strongest of all materials that are used in the construction industry. Strength is quite obvious since everyone knows this. What few people understand is that strength is very important when building a structure. We need to have perfect structural integrity. When referring to the flexibility factor, steel can adapt when faced with various stresses. That is important for safety reasons as conditions do change over the years.
Steel Maintains Its Strength Indefinitely
In the construction process, we can use many different materials like wood and cement. The frames that we use always have a longer lifespan. Except for the situation in which special circumstances appear, the steel frame lifespan is practically infinite. To put it as simple as possible, when using a steel base structure, you do not have to worry about wear and tear.
The only real requirement that has to be respected so that steel can be maintained properly is to prevent rusting. If you can do that, you will gain all the advantages associated with the material.
Steel Is Environmentally Friendly
As reputable contractors will tell you, nowadays it is important to think about the environment. One thing that you may not be aware of is the fact that even reused steel can be easily recycled. After you go through renovations, scrapped steel can be sold to steel companies. These firms will recast the material to create brand new products. When comparing steel with materials like concrete and wood, it is obvious that it is a lot more environmentally friendly.
Steel Is Versatile
Steel frame versatility is highly important in construction and architecture. You can use different steel qualities to end up with innovative and radical designs. Versatility is huge and most unique structures from around the world are based on the use of steel. If you want to create a design that is modern or truly unique, you will need to consider the use of steel.
Application Ease
The steel frames are convenient, no matter the situation's specifics. According to professionals, one of the biggest possible benefits of using structural steel frames is that they can easily be prefabricated. Installation is easy and there won't be any complications associated with bolting the frames together. Because of this, you have more comfort when implementing projects and deadlines are easier to maintain.