6 Simple Steps to Patch an Asphalt Driveway
by Guest on Sep 9, 2014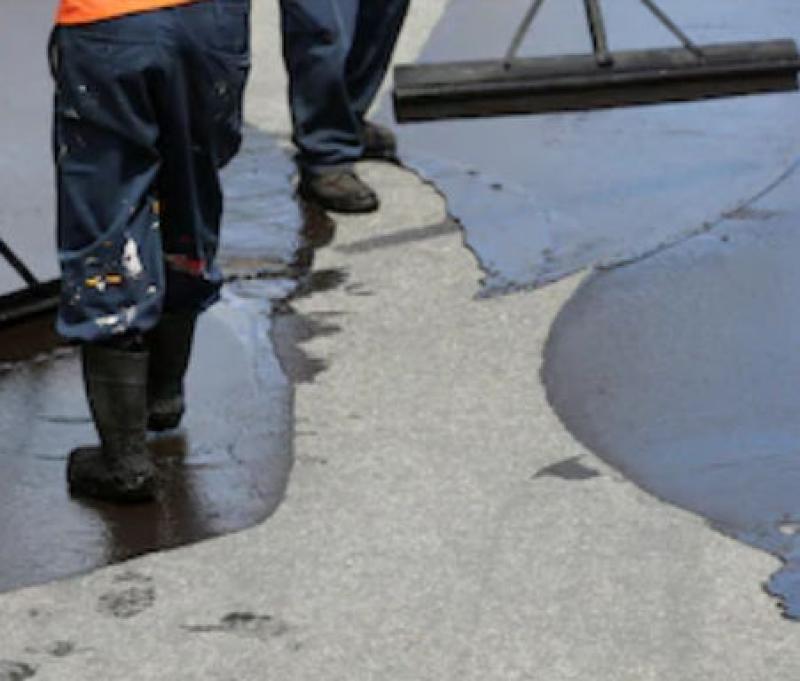 A few days ago I noticed a small patch of loose asphalt on my driveway and just ignored it because I didn't think it was a big deal. But a few days later I was shocked to find out that the tiny spot of peeled asphalt had become a pothole that was about 5 inches wide and 2 inches deep. I underestimated the amount of wear that occurs naturally on an asphalt driveway.
After a little bit of internet research, I discovered that as time goes by, asphalt roads and driveways develop bruises and voids. Some of these voids will become small holes in due time because of extreme outdoor conditions. When water, such as rain or from a garden hose while watering yard plants, runs over it, some of the compressed earth and gravel underneath the roadway will be eaten away, creating large empty spaces. This makes the asphalt crust vulnerable to caving in when cars drive over it.
Flowing water and the weight of running vehicles is said to be the perfect combo for the development of asphalt road potholes. You just can't avoid it. Potholes are a danger to both vehicles and people passing by. They can ruin a car's tires or suspension and people can get injured from tripping on them. Potholes are also an unwelcome sight aesthetically. The trouble with potholes is that they get bigger and deeper the longer you let them stay in your driveway.
Fortunately, asphalt driveway potholes are a manageable problem, one that I was able to fix without any prior knowledge or experience about it. I simply researched the asphalt patching process and with one trip to the department store and an hour of work I had repaired my driveway. Here are the steps I used to repair my asphalt driveway:
Step 1. Prepare the materials you will need
In order to fix a pothole, you will need the following:
A bag of cold asphalt filler
A small shovel or digger
A broom and dustpan or any household vacuum cleaner
Access to a water hose
Working gloves
Hand tamp and hammer
A plywood sheet
Measure the size of the hole so you can estimate the quantity of asphalt filler to apply. Cold asphalt filler is readily available in hardware stores and sold in plastic bags like ordinary cement. A decent rule of thumb is that 50 pounds of filler can fill a hole around 2 square feet in size.
Once you have secured all these items, you are now ready to work on your driveway's pothole.
Important Tip: Only perform pothole work when the weather is dry and sunny. The asphalt filler will not bond well with the existing roadway if there is moisture or running water around it.
2. Clear the hole of any debris
The first thing to do when fixing a pothole is to make sure it is clean and clear of any dirt, debris, or loose asphalt. Use your shovel or digger to take these pieces out. These fragments will hinder the filler to bond properly with the road so it is important to remove everything as much as possible. Take away unattached or wobbly asphalt pieces as well. The earth and gravel base of the hole should be exposed so that the asphalt filler will be effective.
Use your broom and dustpan or any household vacuum cleaner to eliminate smaller pieces and dust. Spray a little water with your garden house (do not soak) to allow remaining dust to settle down. Leave it alone to dry before moving on to the next step.
3. Fill the hole with compactable materials
If the pothole is deeper than 2 inches, fill it up with dirt, stones or gravel. Thoroughly pack the hole with your hand tamp leaving no empty spaces or pockets where water can get in.
4. Fill the hole with the asphalt filler
Once everything is set up, fill the hole with the cold asphalt filler to about half an inch above the road level. This will leave the completed patch more or less aligned and parallel with the roadway after packing.
5. Pack down and level the filler
Using a manual or electric tamper, begin compressing the filler into the hole. Start from the outside of the hole, slowly moving towards the center. It is very important that you tamp the filler down to the hole as compressed as possible or the asphalt filler will just easily loosen up again after some time. Use your hammer in tamping small areas in and around the patch to compress the material even more.
6. Cover the pothole temporarily
After you have leveled and compressed the pothole, temporarily cover the hole with the piece of plywood for a couple of days or until it is hard enough to drive over.
Repairing your own driveway's pothole can be a sweltering, dirty, and unpleasant task, but one that can be rewarding and prevent further damage if done early. If you already have extensive damage to your driveway it might be necessary to have an asphalt repair company come out and repair your driveway.