7 Tips for Choosing Your Bathroom Doors
by Nick Marr on Mar 31, 2022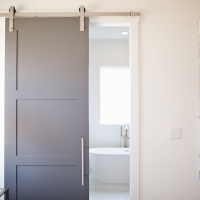 Replacing the door is an excellent starting point when doing bathroom renovations. However, with the various door types in the market, choosing the right door for your bathroom can be challenging.
Read on for seven tips for selecting a door for your bathroom.
1. Pick the best material
The bathroom door is often exposed to humidity and moisture, so the door you pick should not only blend with your home's decor or appear natural. It should also be made of durable and moisture-resistant material. Here are some of the most popular bathroom door materials: 
Wood
This is the most popular door material for interior spaces. While it is an attractive option, wood often warps or swells with exposure to moisture or humidity changes. You may have to spend thousands of dollars on maintenance to keep a wooden bathroom door in excellent condition.
Steel 
Steel doors are a great option when you want to achieve a sleek, modern appearance. They also do not warp with exposure to moisture and are pretty durable. However, steel rusts and corrodes over time, so you have to observe regular maintenance.
Fiberglass
Fiberglass is more durable and has versatile design options compared to other materials. It also has a smooth surface, unlike wood, and offers greater resistance to damage.
2. Check the door swing
Bathrooms are some of the rooms in the house with tight configurations, so when choosing a door for your bathing area, you should ascertain that the door not only opens completely. It should also not cause unwanted obstructions, including bumping into nearby cabinet drawers, door handles, windows, and mirrors. You could choose an inward swing, outward swing, left swing, or right swing, but base your selection on the size and shape of your bathroom. Visit DoorsPlus.com.au to choose high-quality doors that suit your style and space.
3. Get the right measurements
Before you order your door online or purchase from a local store, it is vital that you determine the correct measurements of your door opening. You do not want to spend more money and time modifying the door or purchasing a new one because you bought the wrong size. Take careful measurements of the height and width of the current vanity door or the planned door space and store the information in an easily accessible area when shopping.
4. Choose the frame
Go for a regular door if you intend to keep the existing frame. However, if you want to replace the door and the current structure, you should opt for prehung doors. These products include doors already hung on racks. A prehung door is easy and quick to install.
5. Select the right finish
The finish plays a crucial role in the longevity of your door. Be sure to consider the door's material when choosing the right finish for the best results.
6. Determine the right style
You should choose a door with the right style for your washroom. Bathrooms are not built the same, so you should determine that the door's style caters to the bathroom's existing design and your personal preference.
7. Set a budget
Before you start bathroom shopping, ensure that you determine how much you will be willing to spend on your door. Be sure to compare the pricing of different quality doors to develop a realistic budget. 
Endnote
A bathroom door should enhance the functionality and aesthetics of your bathing area. Implement the above strategies to choose the right door to complete your bathroom.