No Garage? Parking Solutions for Homes without Them
by Tammy Emineth on Dec 13, 2021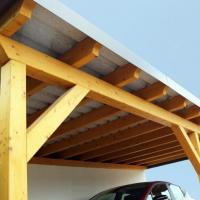 When searching for a new home, most often buyers will look for homes with garages. And many buyers are hoping to find a multiple-car garage. While there are many homes that do have them, and they're pretty much standard build for a brand new home, there are still several homes all around the world that do not offer a covered designated parking space.
Here are some solutions to take advantage of if you are hoping to add a covered parking space to your property.
Build a detached garage
The most common, and often seen as the most simple of solutions, is to have a custom detached garage built. A detached garage provides parking space out of the weather for your car as well as can be an option for extra storage. There are several types of custom-built detached buildings that allow for many more style options as well as structural design options when compared to a traditional attached garage on your home.
More: Converting a garage to a room
It may not seem like there are many more options for building a detached garage as compared to a traditional one that is built onto the side of a home, but there are actually several more design options when you choose to go with a detached garage.
Some people choose a detached version because the building codes where their home is will not allow for adding a garage onto the existing structure of the home. This could be because the home is a historical one or a could just be that zoning does not permit the primary structure on the lot to be any larger than it already is. In some cases, it could be that the position of the home on the property would not allow for attaching one to the structure because it could mean that the garage will be too close to the property line for zoning.
In addition to being more easily able to comply with local zoning, there are several design aspects that you have more freedom with for a detached garage structure. If you would like to build a multiple-car garage with plenty of room to do so a detached version may be a better option for your property.  If you are hoping to build a mother-in-law apartment or a luxurious guest suite over the garage, this is probably much more doable with a detached garage structure. It may also just be that a detached garage would look better with the overall structural aesthetic and design of your home.
Related: More Tips on Protecting Your Vehicles
Try a carport
A more cost-effective means of creating a covered parking space is with a simple carport. A carport is basically like a detached garage without any walls. It is 4 supports holding up a roof or a cover over a parking space. A car part does not offer the highest of protection from weather and possible theft, but it does give more coverage than just keeping a car parked along the street or in a driveway. Not only are carports more budget-friendly, but they are much quicker to install than a full-on garage.
A custom-built shed
This one sounds a little bit funny, and it is definitely outside of normal and traditional, but some people actually do purchase custom-built sheds for the intent of parking certain types of vehicles within them. Most often a shed is used for smaller vehicles including motorcycles and ATVs. But some sheds can be large enough to use as a single-car garage for a smaller car. It is a great solution for those who drive smart cars, for example.
No matter what type of parking solution you are looking for, there are companies out there to custom-build a garage solution for you.