Give Your Bathroom a Luxury Hotel Style Look
by Guest on Nov 26, 2012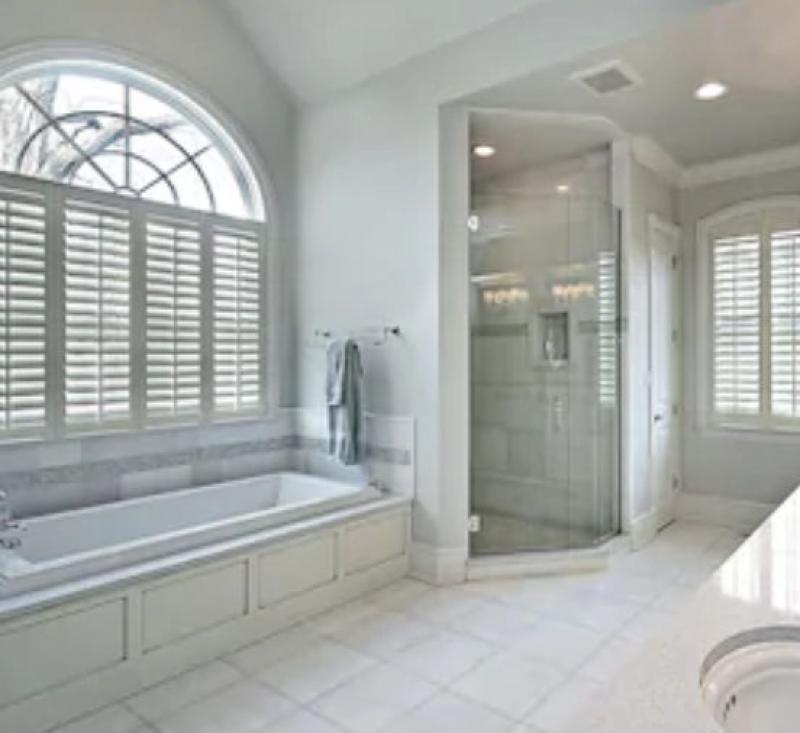 The bathroom is one of the most important places in a house and so it should also be stylish enough to complement the beauty of the house. Nowadays, people spend a lot of money on the decoration of their houses. They hire the best contractors for building their houses, for designing their rooms, kitchen, and bathroom. This is because; most people want to have the best of everything.
So, if you want to have a beautiful bathroom that is more than a water closet to you, then you should visit a five-star hotel or a spa to get the idea. You will understand the things that you will need to make your bathroom a luxurious place instead of a boring and damp place. So, to transform your bathroom from an uninteresting place to an attractive place, where you can relax and release your stress, you have to do a few things to make it possible.
First of all, you have to change the boring fixtures of your bathroom to stylish ones. Fixtures are very important in making your bathroom look stylish. Some of the modern mainstays are aluminum, chrome, and stainless steel. If you prefer an antique look, then you can also go for brass. No matter what style you choose, it should match with the other things in your bathroom. If the style is not consistent at the tap and in the shower, then it can make your bathroom look mismatched.
For transforming your bathroom, you can upgrade the sink. Nowadays, when people think of upgrading their bathrooms, they think of more things than just installing a Jacuzzi tub. They want to make their bathroom a place of a luxury. Many people set up two sinks in their master bath. Doing this helps in having more space in the bathroom. If you hire a bathroom designer, then you can understand that they take cues from the bathrooms in spas and five-star hotels and this helps them to use different materials in the bathroom which was never used before. Today, you can use stone, marble and even sculptured sinks which were limited to bathrooms of luxurious hotels and spas even a few years ago. But now, you can install them in your bathroom to make it look like a bathroom of a five-star hotel. However, you should choose a sink that fits well in your bathroom without making it look odd.
One thing that can surely transform your bathroom into an awesome place is steam showers. Steam showers can make your bathroom look like a luxury spa. Steam showers are self-enclosed units that have a steam generator that converts water into steam. They are watertight and can be temperature controlled. They are about the size of traditional showers. A good steam shower has many features that you can enjoy if you install a good one in your bathroom. Some of the features that you will find in a high-end steam shower are massage jets, foot massagers, voice activation, outlets for radio, telephone and Mp3 player.
To make your bathroom look like a hotel bathroom, you must have a beautiful tub in it. There are various types of bathtubs. If you want to have a luxurious ambiance in your bathroom then you should go for Jacuzzi tubs. If you prefer an antique look, then a clawfoot tub will be best. Even the sunken and elevated bathtubs are extremely stylish. If you want to relax and read in your tub, then you can hang a pendant light over it.
Even after you have every item of luxury in your bathroom; it will be useless, if you do not have proper lighting. Lighting can do wonders for your bathroom. You can use coated or frosted glass bulbs which will soften white light but will not reduce the brightness. It is better to avoid exposed bulbs as their light is harsh. So, choose the light that will enhance the beauty of your bathroom.
If you want to pamper yourself then everything in your bathroom should have a luxury touch. So, do not forget the heated towel rails and the designer radiator. You should buy the softest towels whose color matches your bathroom so that everything looks perfect.
Transforming a bathroom with a hotel style is the best way of pampering yourself. So, start planning and make your bathroom a perfect place of a luxury.
Andrew Hannigan is a DIY enthusiast. He is a self-taught home improvement expert and is currently working with Betterbathrooms.com who are known for their bathroom suites.