Landscaping Boulders, Mounds (Berms)
by Dan Eskelson on Apr 30, 2012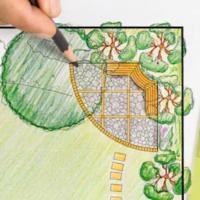 Topsoil is imported to create mounds or berms, and often large boulders are included to further increase vertical interest.
Mounding can create a very welcome addition to a flat site if the proper design and installation techniques are followed. The first consideration is the relationship between the size of the raised area and its height. If your mounding extends twelve feet in its shortest dimension, the highest point of the berm should not exceed 1.5 - 2 feet. Anything higher will look pretty unnatural...more like an out of place volcano.
Use similar ratios for other size berms. To further enhance the height of your mounded area, use taller plant forms near the top.
When placing the soil for your berm, remember that it will sooner or later settle and compact...better to manually compact it during installation than to have to return later to adjust the grade or repair plantings. If you have used heavy equipment to place the soil, and assume it is not wet clay, have the operator drive over the loose soil in many directions to help settle it.
If water is not scarce, some contractors also will "flood" the area by running a sprinkler for eight hours or more. You'll probably find that these techniques will change the grade so much that you'll need to re-grade parts of the berm. Again, it is extremely important to take your time at this stage to ensure there will be no future soil settling.
Placing boulders in the landscape has become increasingly common and complements a bermed landscape well. Use material that is native to your area - it will be less expensive and will complement your surroundings most appropriately.
The most common mistake made by amateur "rock placers" is setting the boulder right at the existing grade. This is not at all how nature does it...you'll have a much more natural-looking site if you set your boulders below grade to a depth of 1/4 to 1/3 of the boulder's diameter. If at all possible, protect the boulder from damage from the equipment used to move it...these scratches and gouges often take quite a while to weather away.
To eliminate future maintenance headaches, place a *high-quality* landscape fabric under the boulder and extend it out ten to twelve inches (trim it later if you wish). This will eliminate the difficult weeding chore associated with this type of scenario.
Creating vertical interest on a flat site requires extra cost and work, but when done properly, results will be worthwhile.