Creating Your Planting Areas
by Dan Eskelson on Apr 29, 2012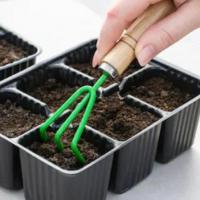 In the last issue, Down and Dirty - Understanding Your Soil, I discussed basic soil concerns - fertility, drainage, pH...this article will address the "hands-on" processes of creating planting areas.
When I first learned this trade, the accepted advice was to plant shrubs and trees in a hole enriched with organic matter and fertilizer...don't do it! The roots of your plants will love the enriched soil so much that they will circle round and round within the hole, eventually stifling growth. and in clay soil, the relatively dense walls of the hole will hold water in the enriched root zone - the "bathtub" effect.
The far superior method of soil improvement is to enrich the entire planting bed with several inches of organic matter and required fertilizers as described in the last issue. This way, plant roots can spread evenly in all directions, as rain and irrigation deliver nutrients from the enriched topsoil.
Be sure to maintain a slope away from your house...in the first 10 feet of land surrounding your home, the grade should slope approximately 12 inches, then tapering to a 2 percent angle. Maintain the soil around your home so that natural land erosion does not cause the slope to disappear.
In most cases, it's best to create planting beds with a slight crown, or hill, near the middle of the bed and sloping downward toward the edges. This will help to keep roots out of standing water during very wet periods. In very sandy soils, however, level beds are OK. In either case, create a basin around each plant that extends to, or further, than, the drip line; especially important during the first year, this will help to deliver water where it's needed.
When creating your lawn areas, keep in mind that grassroots need at least six inches of good topsoil - and most turf-type grasses need a constant diet of nutrients. So start out with good rich soil to encourage the good establishment and limit additional fertilizer applications.
Mix soil amendments very thoroughly - you'll definitely see streaks of varying green shades if you don't. It may be necessary to run the rototiller or tractor over the area four to six times, each in a different direction.
after thorough mixing, rake the lawn area with steel garden rakes, removing rocks and stones down to about the size of your thumbnail. If your soil is very stony, remove many of the smaller stones too...new seed needs fine soil to adhere to and sprout with healthy growth. This can be a slow, labor-intensive project in some soils.
after the initial raking and rock removal, use wide grading rakes to put a smoother finish on the surface. Rake in several directions to fill low spots and knock down high spots. This often brings up an additional rock to deal with. When you've achieved a fairly level lawn area, use a full lawn roller to pack the soil. Push, or pull, the roller slowly, in at least two directions.
The compaction will bring out more irregularities in the grade. Use the grading rakes again, in several directions, to smooth the grade. Roll again, and rake again, until you're satisfied with the smoothness of the grade.