How to Restore the Grout between the Tiles
by Guest Post on Jan 13, 2010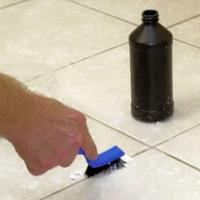 We all try to find cost-effective and unique ways to breathe new life into our homes, by doing simple updates one task at a time. This particular do-it-yourself project is for the dull group between your tiles. The tiles on the floor and wall seem to last forever, with a little cleaning and polishing they can look new, except for one thing.
Over time the grout between your tiles starts to fade giving your tile a less attractive appearance. Well here are a few simple steps to revitalize your grout making the floors and walls look brand new, without the back-breaking work of removing old grout and re-grouting your tile floor or wall.
Purchase a small can of house paint; yes that's correct house paint. The color of the paint should be the color of the grout, close to it or you can choose to be daring and go with a darker color, giving it a different look. Pick up a pack of small paintbrushes, the type you would use to paint a picture. The paintbrushes shouldn't be wide since you will be using them to paint the grout line. You will need a sponge and some old rags.
Clean the floor or wall thoroughly and allow it to completely dry.
Where ever your starting point is located be consistent, whether you start from the top of a row of tiles or the bottom. Make sure to paint all the way down to the end, before starting a new row. This is will ensure even coverage and no missed spots. Take your time and be cautious of getting any paint on the tile. It's rather easy to prevent spillage onto the tile, with just a little patience.
Make sure to have a damp sponge and dry rag nearby, in case you spill paint on tile, don't allow the paint to dry before cleaning it up. It will be easier to clean up while still wet.
When you are done allow the paint to dry before walking on it to prevent trash or lint from getting trapped inside the paint. Once it dries you will be pleasantly surprised how rejuvenated your walls or floors look, just from reviving the grout. The rich vibrant colors from the grout will not only give the room a fresh new, updated look, but it will give it a lasting make-over.
Tips: If the grout has any holes or cracks you will need to fill them first. There are grout pens that can be purchased.
Warning: Depending on what type of paint you use, you may want to use a painter's mask, to protect yourself from the smell.