Getting Rid of Carpet Stains
by Jessica Ackerman on Jan 14, 2010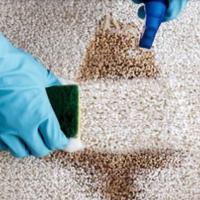 The mess on your carpet is not a pretty sight. But the good news is that most carpet stains can be removed with the right tools, using the right procedure.
It is important to treat spills or stains as soon as they occur. Any solid deposits should first be scraped up, and dry absorbent towels or paper kitchen towels should be used to soak up the liquid. Blotting from the outer edge in is recommended, rather than rubbing or soaking the stain with water, as this will cause the stain to spread over the carpet area and damage surrounding areas. After the area is blotted, cover it with a paper towel and weigh it with a heavy object to soak up any remaining liquid.
Using Stain Remover
Carpet stain remover can be found in most stores that sell household cleaning products. Stain removers can generally be used on stains caused by juice, wine, and food. There are ones that tackle particular types of stains, like coffee stain remover.
Test the stain remover on an inconspicuous area of the carpet by applying several drops and examining for any color changes and damage to the carpet. If you do notice any adverse results, try another brand or type of stain remover. If you have found a stain remover that does no damage to your carpet, it is safe to use with a gentle and patient hand. First, apply the solution to a clean cloth and work it into the stain. After a few minutes, blot the area dry then re-apply the stain remover. You may need to do this a few times until the stain is all absorbed. Lastly, rinse the area with cold water and blot dry.
Other Types of Removers
For more potent grease, blood, and ink stains that are tougher to get rid of, brake cleaner and dry cleaning solutions are two options that you can try. Brake cleaner is formulated to break up grease and other chemicals, and the dry cleaning solution used by dry cleaners is a powerful cleaning agent. Apply a small amount of the solution to a cloth and blot the area.
Stains caused by coffee and tea can be removed using dishwashing liquid. A mixture of one part vinegar and two parts water can also be blotted in to get rid of the stain. With drinks that leave nasty stains, such as juice and wine, club soda can be used on the stains before application of the stain remover. The club soda will aid in the effectiveness of the remover by loosening the stain's hold on the carpet fibers.
Steam Cleaning
If the methods above do not completely remove your carpet stain, you might want to try steam cleaning the spot with a small carpet steam machine. It works like a vacuum cleaner to create hot steam that loosens and removes stains. A shop-vac is a wet/dry vacuum cleaner that is a fantastic appliance to have if you encounter frequent spills and stains. It vacuums up liquid and allows you to clean the area with water and vacuum it dry several times.