All About Woolen Rugs
by Guest Post on Jan 14, 2010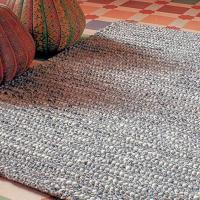 Rugs are well known for their flexibility and durability. One of the finest fabrics used for the area rugs is wool. Wool rugs are one of the finest floor coverings, they are known for their value in money, style, their different designs and varieties, beauty, and even their longevity. Woolen rugs are being used since ancient times. It is one of the durable materials used to make floor coverings.
There are many varieties of wool available in the market depending on the different breeds of the sheep. The quality of wool can be determined by multiple factors like the age of the sheep, its health, gender, and how the sheep have been nurtured.
Despite the different textures and the quality of the wool, there are several styles out of which the wool rugs are made, so you will be tied up with loads of rugs from which you have to choose the best rugs which help you to beautify the look and the feel of your house. The rugs are made in different regions of the world, especially in the U.S where they are imported to different parts of the world. However, the rugs are differentiated based on their origin. Other popularly used area rugs are the Persian rugs which are mostly made in the Middle East. Rugs are also made in Pakistan, Afghanistan, Turkey, and many other places in the world. However, the origin from where the wool has been extracted does not directly determine the quality of the wool as well as the rug.
The quality of the rugs is dependent on the way the rugs are made, the type of wool which is been used, the design, the style in which it is been made, and above all the quality of the dyes used. While you are purchasing a rug it is quite obvious that you will consider the price of the rugs but let me tell you that the rugs are one of the cheapest and most economical options than any other option of flooring.
You have different options to select from like the wool rugs or the machine. You will also have to choose as to you are going to use the rugs made of 100% wool, or a blend of wool with other synthetic materials. However, the synthetic versions of the rugs are quite easy to clean and even cheaper than pure wool rugs. But many people love to go for the rugs with a high concentration of woolen rugs.