How Can You Maximize Your Kitchen Work Space?
by Guest Post on Aug 25, 2010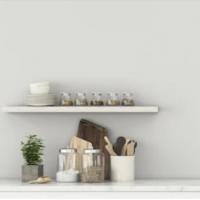 Nowadays it is hard to find a home that has enough space to fit all your belongings in it comfortably. If that would be possible then it would become your "dream" home. By now you must know that there is nothing called a dream home. However, this should not stop you from making your existing place dreamlike. The easiest way to do this is to clean up the mess that is created in it due to all the rubbish and junk you own that is never going to be used by you or anyone else in your family.
Keep the Floor Free
Try not to clutter the floor space with too many boxes, appliances or kitchen items. It is important that you have enough space to move about freely in the kitchen while cooking up meals. Comfort is of prime importance during the time you spend in your kitchen. Leaving the floor clear also makes cleaning up the kitchen easier as there are lesser corners and crevices underneath boxes and piles of objects and insects can survive or dust and grime can accumulate.
Utilize Wall Space
Fix up some spacious and sturdy cabinets in your kitchen. Keep them away from the direct path of your stove or oven. Use well-finished wood or stainless steel made cabinets and countertops for kitchen purposes to make them durable. You can use this space to store all the dry ingredients and even some of your pots and pans.
Go for Vertical Storage
Cabinets and shelves are not the only things you can fit on the walls of your kitchen to make space for other things. You can make separate shelves for your microwave, toaster, and water purifier. All this can easily fit vertically inside your kitchen. You may keep the refrigerator in the kitchen if you think it is convenient. But it is perfectly acceptable to have the fridge in the dining area as well.
Relocate some Items from your Kitchen Elsewhere
If you don't have enough space to store some of the crockery and cutlery in your kitchen, choose from the ones that are not used as regularly as the others and put them in boxes to store them elsewhere. This will free up some space in the kitchen for more important and immediately necessary things such as a sink and a dishwasher.