What to Consider Before Removing Stairway Carpeting
by Jessica Ackerman on Aug 3, 2010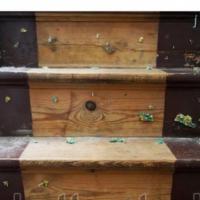 You have just refinished the wood floors in the living room after discovering them beneath ugly, out-of-date carpeting and you are eyeing up the stairway carpeting with loathing and contempt.  But, hold on before you start ripping up the carpet and think about the ramifications of removing stairway carpeting.  Unlike removing carpeting in most other areas of the home, stairways pose particular challenges and can be costly to re-carpet.  Ponder the points below before you break out your carpet knife and start pulling up the stairway carpeting. 
What Is Under There?
Unless you know for certain what lurks beneath the stairway carpeting, removing it on a whim and without a plan can result in a do-it-yourself nightmare.  While many older homes have hardwood stairs to match the hardwood in the rest of the house, newer homes, as well as older homes that have been repaired are often fitted with plywood stairs.  Once you have ripped up the first strip of stairway carpeting you are stuck with whatever is underneath.  If you are unsure about what is beneath the carpeting, try to gently pry up an edge of the carpet to get a peek at the flooring below.  Even if the first stair looks okay, you may find that the stair three rows up has been repaired with plywood.  Anytime you uncover an unknown area, it is important to have a quick and ready remedy on hand or in the works.
Carpet Selection
Unlike living room or family room carpets, stairway carpeting must stand up to heavy traffic day in and day out.  From adult-size treading to pets running up and down the stairs, stairway carpeting sees a lot of wear daily.  If replacing the old stairway carpeting with new carpet, it is important to choose a carpet that is durable, stain resistant, and that molds easily to the bends and curves of the stairs.  Most homeowners and experts will quickly assert that Berber carpeting is not the best choice for stairs.  It quickly becomes matted and is difficult to clean.  Instead, many professional installers will suggest a very dense, plush nylon carpeting for the stairway.  Choose a color that will be easy to clean, but that also looks good with the rest of the house.
It Costs How Much?!
It is true that installing carpeting on a stairway is a lot more labor intensive than installing it in a rectangular room.  With that extra labor comes a much higher cost.  Before ripping up the old stairway carpeting, be sure that the budget allows for any repairs to the stairs beneath and for the installation of new carpeting if it turns out that the stairs are made of plywood.
Removing stairway carpeting is not a task that should be taken lightly or done on a whim.  It is tempting to dive right in, but without a proper backup plan and a budget big enough to cover the unexpected find, ripping up the carpet can cause havoc.  Take the time to carefully consider all options, do as much investigation of the flooring beneath the carpeting as possible, and be prepared for the unexpected when removing stairway carpeting.