How to Remove and Replace Broken Ceramic Tiles
by Jessica Ackerman on Apr 28, 2012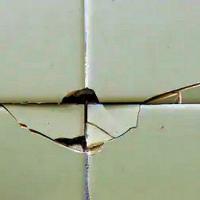 Tips to Achieve Professional Looking Results
Ceramic tile flooring has been popular for years, and its popularity continues to grow. Not only is ceramic tile flooring stylish and attractive, but it is also sturdy, easy to clean, and with proper care, it can last for decades. Unfortunately, ceramic tile floors are not indestructible. If something heavy is dropped, the tiles can crack or break and detract from the overall look of the room. Not only are cracked or broken ceramic tiles unattractive, but they can also cause damage to the sub-flooring beneath. Moisture from wet boots and shoes can seep into the cracks and cause mold, mildew, and ultimately rot the wood beneath.
Fortunately, it is possible to remove a single ceramic floor tile and replace it without damaging the surrounding tiles. When taking the time to properly remove a broken floor tile, if extras were saved, more than likely the repair will be virtually invisible. No one will ever know one of the tiles was broken and replaced, and the ceramic tile flooring will provide many more years of beauty and practical use.
Necessary Supplies
Hopefully, when the ceramic flooring was originally installed, a few extra tiles were kept. If not, search online or in home improvement stores for a ceramic tile that matches the existing flooring. It might take a little perseverance to find the right flooring, but chances are you will find a close match. Even if the tile you find is not a perfect match, a ceramic floor tile that is a little off-color is far better than keeping the old one that is broken or cracked.
Besides a replacement, you will require a rotary cutting tool, a cold chisel, a small sledgehammer, and a wood chisel. You should also have a patching compound on hand in case the sub-floor is gouged, ceramic mastic, a notched spreader, grout to match the existing color and type, a damp sponge, a soft dry cloth, and grout sealer.
Procedure
Begin by carefully cutting away the grout around the cracked or broken ceramic tile. It is important to take your time and proceed with caution to avoid cracking or chipping surrounding tiles. Once the grout has been cut away, use a cold chisel and a small sledgehammer or a rotary tool and cutting attachment to create an X on the surface. Carefully chisel the ceramic tile into small pieces that can easily be removed. Chisel away any remaining mastic and grout using a wood chisel while being careful not to gouge the floor beneath. After all of the grout and old mastic have been chiseled away, sweep up any remaining dust and debris in preparation to replace the old tile.
Lastly, apply mastic to the back of the new tile, and place it squarely in the opening. Allow the mastic to dry completely according to product label instructions. After it dries and the new tile is firmly in place, fill in the gaps with matching grout. The grout will take approximately 15 minutes to set to the touch. Once it is set, wipe away any excess grout with a damp sponge using oblique strokes. Rinse the sponge as often as necessary, and allow the grout to dry completely. After the new grout is completely dry the new tile can be cleaned and buffed with a soft cloth. Be sure to seal the grout according to product label recommendations.
After replacing the cracked or broken ceramic tile, the entire floor will look like new. Replace any broken or cracked ceramic tiles instead of investing in new flooring. It is easier than most people realize, and although it takes time and effort to remove and replace broken or cracked ceramic tiles, it is possible to give ceramic tile floors a much needed facelift - all for the price of mastic, grout, and a new tile to matching old flooring.