7 Ways to Revamp Your Deck
by Bob Ryan on Jul 18, 2018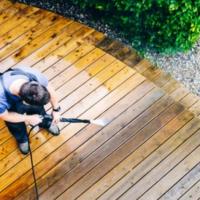 A deck plays an important role in a home's versatility. But, sometimes a deck can seem bland in comparison to the rest of a home. Luckily, there are a variety of things you can do to revitalize your deck. So, here are seven of the best ways you can revamp your deck!
1. Utilize Furniture & Decorations
Sometimes you don't need a deck builder to revamp your deck. If you're already in love with the structure of your deck, but want to give the design a facelift, simply use furniture and decorations to do it. 
Feel free to add anything you feel like your deck needs, such as a table, chairs, pillows, and blankets. Browsing websites like Pinterest and HGTV can also give you great design inspiration. 
2. Extend It
If you have a large backyard and a small to medium-sized deck, you might want to consider extending your deck. After all, a larger deck allows you to enjoy your deck. You can add a variety of customizations and decorations to your deck. With a large deck, you could even host a large get-together.
3. Add an Extra Level or Two 
Adding an extra level or two is also a great option for people who have a large backyard. Having a multilevel deck adds an elegant appeal to your backyard. But, it should be noted that building another level or two shouldn't be a DIY project. So, contact your local deck builder if you're interested in turning your standard deck into a multilevel deck.
4. Add Some Shade
If you have a decent-sized deck completely exposed to the sun. Then, you should consider adding some shade. You could do this by simply adding umbrellas to your deck, or even hiring a contractor to build a pergola on your deck.
5. Utilize Greenery
Custom outdoor living isn't only about building extravagant decks, patios, and other structures. Sometimes, adding a touch of greenery can turn a simple outdoor living space into a safe haven. If your deck is looking a little bit bland, consider planting a variety of plants, flowers, and possibly fruit and vegetables on or around your deck.
6. Bring Your Kitchen Outside
Let's face it: there's no better place to host a barbecue than outside. But, having to run back and forth from your deck to the kitchen to cook and grab food can put a dampen on your party. That's why you should consider building an outdoor kitchen on your deck. Your outdoor kitchen can include everything from a standard grill, to countertops, and even cabinets.
7. Install a Firepit 
If you want to enjoy nighttime outside with friends and family, consider installing a fire pit on your deck. With a fire pit, you can do everything from hosting a bonfire to roasting marshmallows or even simply seeking warmth next to the fire on a chilly night.