Seven Tips for Finding Great Landscape Lighting Ideas
by Guest Post on Jun 5, 2018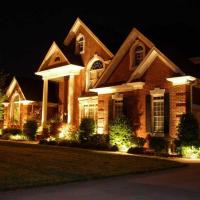 Are you looking for some great landscape lighting ideas, but you are not sure where to find them? The good news is that coming up with good ideas for your outdoor areas is not that hard to do – in fact, it can even be fun! To get started, this article provides seven tips on how you can use a little bit of imagination and pre-planning to find some great landscape lighting ideas for yourself.
1. Consider Some Landscape Features You Can Light
Features that look rather mundane during the daylight hours can be transformed into something extraordinary at night by the rich colors, hues, and special effects of tasteful nighttime lighting.
For example, walkways, driveways, steps, walls, fountains, statuary, shrubs, trees, decks, patios, and garden borders, can all benefit from properly placed lighting.
2. Use a Flashlight to Simulate Lighting Effects
When it gets dark, take a flashlight with fresh batteries, and go for a walk through your garden, yard, and other landscape areas. You will use the flashlight to simulate lighting effects. 
Shine a beam on objects you think you might want to light. Observe how the flashlight creates various contrasts, lighting effects, and shadows on your house, on trees and shrubs, and on other elements throughout your landscape. Use both floodlight and spotlight settings and take notes on what angles and positions look best.
3. Visualize the Effects
Next, visualize in your mind's eye how you can re-create the effects you like by using various lighting methods.
Popular lighting techniques include uplighting, downlighting, backlighting, spotlighting, shadow lighting, path lighting, and wall-wash lighting. Bring your landscape to life at night by placing a few light fixtures in strategic locations throughout the grounds.
4. Write Down Your Ideas in a Notepad
After you have come up with some ideas on what you are going to illuminate, write them down on a notepad. Don't assume you will be able to remember all of your ideas in your head, because you may forget something.
Sketch a bird's eye view map of the landscape layout and features and plot where you will place each lighting fixture. You will want to take these notes with you when you're ready to purchase your lights.
5. Search for Ideas Online
If you need more ideas, your next step is to go online. There is a treasure trove of information on the internet about virtually anything that we can think of, including landscape lighting. Getting online and performing a couple of quick searches is a great way to spark somestrong>
6. Make Your Online Searches Specific
If you enter a general phrase into the search box like "landscape lights," you may get several results such as sales product pages that are not entirely relevant to your search for ideas. Try a more specific search like "how should I light my landscape?" or "outdoor lighting ideas," which will return more useful results. Do-It-Yourself and How-To Websites such as E-how.com, answer websites like Yahoo Answers, forums, and groups like Google Groups are a few of the places where you can get some good ideas.
7. Look at Books and Magazines
Using the internet, you can find some very helpful articles on lighting installation projects in many different DIY and home-and-garden magazines and books. Go to your local landscape nursery or home improvement store and check out the books and magazines for some useful lighting ideas and tips.
There are a virtually endless number of landscape lighting ideas, which means there is no limit to what you can do. Use your imagination, let your creative juices flow, and just go for it. Illuminating your outdoor areas will increase the beauty of your home landscaping at night and provide additional safety and security as well.