11 Ways to Transform Your Backyard
by Valerie Muscat on Jan 31, 2019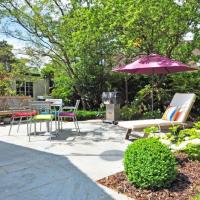 Do you love outdoor entertaining? Do you want to make your backyard a comfortable, chill place where all your friends and family will want to hang out, have a beer, and shoot the breeze? Maybe your backyard needs some work to be more welcoming to your guests. With just a few simple changes and enhancements, you'll be ready to fire up the grill for a great backyard party in no time!
Rearrange Your Patio Furniture
Look at the layout of your furniture. Does it encourage conversation? Try moving a few pieces around to create a better flow.
Buy New Patio Furniture
Is your patio furniture showing its age or fading? Maybe it is time to get some new patio furniture to make your guests comfy. Try adding on a fire pit to really make your backyard the hang-out spot!
Get New Cushions for Your Existing Furniture
If your furniture is still sturdy, then buying a few colorful and comfy cushions can go a long way to improve the aesthetic appeal of your space.
Add Pops of Color
Consider making the space more colorful! Look around for opportunities to add pops of color to your yard. Maybe it means adding a colorful centerpiece to the table or purchasing a few outdoor throw pillows for your lounge chairs.
Plant Flowers
Planting some flowers around your yard will also help you add some pops of color. Flowers can help your space look fresh and stimulating.
Add Lighting
Here's a bright idea….shine a little light on the situation! A little lighting can really enhance a space. Consider stringing some lights around your umbrella or your windows. There are some great rope and string lighting options online.
Perform a Theme Make-Over
Maybe it is time to spruce up your space by giving it a new theme. Think about what types of parties you want to host and go from there.
Plant a Garden
Serving your guests fresh vegetables from your garden could be a signature for gatherings in your space. Grow some fresh tomatoes, zucchini, or herbs to incorporate into the recipes you'll be serving.
Install a Hammock
Who wouldn't want to come to your backyard to relax if you have a hammock? Your guests will never want to leave!
Re-Stain Your Deck
If your deck is looking tired and faded, re-staining is a much more cost-effective option than purchasing a new deck. Plus, it will make your space look fresh and updated. There are so many colors to choose from too!
Add Some Art
Finally, consider adding some art pieces around your backyard. These can be anything from lawn statues to centerpieces on your tables!
Pick a few items from this list and make a plan to make-over your backyard! Friends and family will be excited to see how it has been updated! Plus, it will give you an excuse to invite everyone over for the first of many cookouts!