Trendy Glass Garage Doors for a Full View
by Jimi Forster on Sep 28, 2017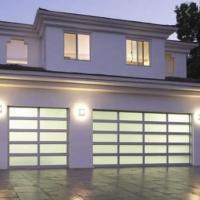 Glass garage doors have always been beautiful. But it hasn't been long since people discovered that they can be inspirational too! Wondering how a garage door can get you inspired? It's easy. Due to this fantastic material, they are not simply doors. They become the focal point of the property and offer the chance for multiple transformations just by using the door.
Don't forget that there is a great variety of glass doors. You can get roll-up, counter, or overhead doors. And not just for the home. You can also install them at restaurants, cafes, retail stores, car dealerships, fire stations, industries, hotels – you name it. They are versatile and thus can be used everywhere and in countless ways. They provide natural light, a modern architectural appeal, open visibility, and the best way to merge the indoor area and the outdoors.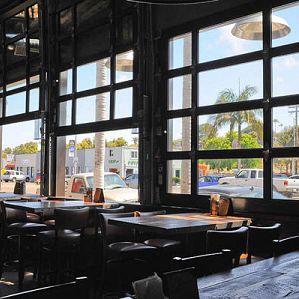 Glass garage doors for restaurants are trendy nowadays
If you own a restaurant or café, you are aware of the great importance of interior design. And the all glass look is very industrial and thus very trendy. At the same time, it's necessary for such businesses to take advantage of every inch of space or the outdoors to serve more customers. Glass doors jump in once more to save the situation.
The trick is done due to the basic material, which is glass. Customers have a full view through the glass door during the winter. Since natural light comes in, the day seems to last longer and the place becomes pleasant. Such things are also true for any other business. Take a car dealership for example. The products are displayed in a very trendy environment and seen from the street. Even passing cars can take a glance at the products.
During the summer, the glass garage doors are kept open. Car dealers have direct contact with potential customers – no need to wait for them to open the door. As for cafes and restaurants, they easily expand the indoor space by simply pushing the door up. And voila, chairs and tables take their place on the street side while customers find it even easier to sit for a moment and grab a cup of coffee.
At home, glass doors become the new wall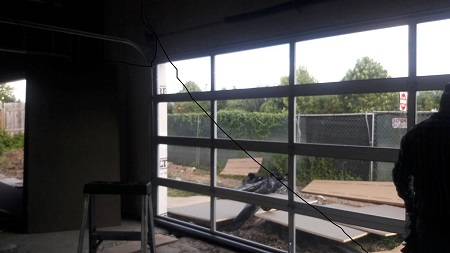 Residential garage doors made of glass offer similar opportunities. When used as a normal garage door, the panel can be laminated and obscure to provide privacy. But the latest trend is that glass doors are used as actual walls in living rooms, dining rooms, or bedrooms. So, if you are thinking about remodeling, start being creative as a professional interior designer.
The nontraditional ways of glass garage door installation include enlarging your home office, making the bedroom part of your outdoors during the summer, or opening up the living room or kitchen space. The benefits?
You save energy
Glass doors can be insulated too
You get more natural light in the house
Home value is increased
The house becomes contemporary
Expansion of living space
The importance of glass garage door repair
Don't forget that when garage doors are used in living spaces or where a lot of people come and go, they need to function well. If you own a restaurant, you cannot afford a glass overhead door sliding down let alone hurting a customer. When you install a glass door in the living room, you can't leave it open for the night due to problems.
Do any required garage door repair in time even if a problem seems to be minor! Don't forget that one problem can bring another and another. Prevent trouble by servicing your door and thus serving your customers or enjoying a trendy home free of headaches.