Outdoor Furniture for Garden Decoration
by Guest Post on Feb 4, 2010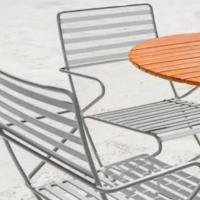 Who does not love to rest and unwind in a quiet and calm place at the end of a tiring day. On another note, won't it be great to stop by in a green, clean and tidy place before you start your day? You don't have to go out to find such a place on this earth. Just open the door and look at your garden. Some thoughtful modifications can help you transform your garden into a place of peacefulness and tranquility.
Garden Decoration
So do not neglect your garden anymore. Home gardens are great places to rest or to spend fun-filled moments with family members and guests. Do whatever you can to make your garden beautiful. Then, not only people but birds will be attracted to it and you will get the chance to watch their dainty movements and listen to their songs.
Plant seasonal trees, buy some planters that go well with the exterior of your home, install a patio awning, set a fountain up at the center of your garden, put in a swing seat at a convenient location, bring in bird feeders, bird houses and bird baths, set up an wildlife pond, install suitable fencing and finally buy garden lights to make the entire place well-lit in the night.
Next comes garden furniture. You will always want to sit and rest in your garden. Many people like to have their breakfast on the lawn in the summer. Many arrange evening parties in their gardens. So you need garden chairs, tables, and benches. to complete your garden decoration.
Outdoor Furniture – Aluminium Garden Furniture
Outdoor furniture is crafted in a different way than indoor pieces. Chairs, dining tables, benches, stools and benches are made to different specifications and styles when they are going to be placed outdoors.
Your drawing room furniture set just does not fit in your garden. Bespoke outdoor furniture specifically made for gardens should be used. Garden furniture can often stay outdoors day and night around the year. Some people don't put a cover on garden furniture, hence it should not rust or rot.
Professional outdoor furniture makers craft the items in such a way so that it lasts and sustains the look as well. Aluminum garden furniture is a good option preferred by a lot of people for low-maintenance metal furniture.
Outdoor furniture made of aluminum does not rust; you can keep it uncovered throughout the year putting little or no effort into maintenance. 2 to 8 seater sets, traditional garden benches, dining tables, and chairs are all available in an aluminum option. Money invested in aluminum garden furniture is a wise investment.
Before purchasing an aluminum garden furniture set, measure your garden or patio space so that the furniture supplier can help you find the right set of outdoor furniture for your garden.