Herb Planters Help You Produce Irresistible Tastes
by Guest Post on Apr 28, 2012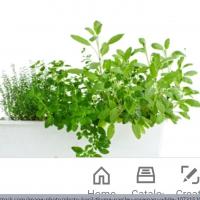 Herb planters, full of aromatic and edible herbs, demonstrate how container gardens can be both decorative and functional. Offering a pleasing variety of blossoms, greenery, and delightful scents, herbs are grown for their beauty, their culinary use, their health benefits, protection from insects, perfuming rooms, closets, and drawers, and for their use in countless crafts.
Herbs lend themselves to container gardening because even if you have a garden with lots of growing space, many herbs are so invasive that you need to restrict their growth so that they don't take over your yard. Once you have tried your hand at growing herbs – indoors, outdoors, or both – you will be hooked and never able to give it up.
What are the Best Herb Planters?
You should have at least two garden planters for your herbs – one for moisture-loving plants and one for those that prefer drier conditions. You may also want separate pots for your most invasive perennials, like mint, which doesn't like sharing space with any other plant and will choke out the less aggressive herbs.
Plastic planters and ceramic planters for herbs as well as metal and fiberglass planters are great for herbs that love moist conditions because these containers retain water so well( eg. mint, parsley, chives, and basil).
Terracotta planters and wood planters are fine for drought-loving herbs like oregano, sage, rosemary, thyme, and lavender.
Because it is less easy to keep hanging baskets moist, they are good for herbs that like to stay dry, and patio planters and window boxes are better for herbs that love their water.
You can water the layers of stackable planters differently, which means these great space savers can be used for both types of plants, but don't try mixing the two types in the same layer. You'll have half the plants rotting and the other half wilting.
Herb Planter Suggestions
If you are going to grow herbs in a very convenient location, like indoors on your windowsill, or outside in raised planters or pots beside the kitchen door, you probably won't forget to water your herb planters regularly; otherwise, an automated watering system might be useful. On the other hand, don't kill with kindness. Overwatering will destroy even moisture-loving herbs.
Good quality soil is important, and you should provide organic ingredients of compost, decomposed manure, charcoal, and ground oyster shells. For your drought-loving plants, mix in a little sand (1/4 of the volume); for your moisture lovers, add extra compost or peat moss.
Herbs, in general, like lots of sun, and should be placed where they can enjoy it all day, but check to be sure. Chervil and Corsican mint prefer shade.
If your herbs become too big for the container, divide them, and replant the excess clumps in other containers. Herb gardens make great gifts.
If you are drying some of your herbs, collect them on a dry day at the end of the summer, and place them out of the sunlight with air circulating them, preferably not the garage. You can hang them upside down in a warm room either in the open air or in brown bags tied with twine. after five or six days, rub them from the stem onto paper and then into airtight containers. Discard the stems and the pieces that fail to crumble.
You can freeze herbs for cooking and whole sprigs are preferred. Herbs used for medicinal purposes are best used fresh or in tinctures or decoctions, and dried herbs are used in sachets and potpourri. Some fresh herbs like tansy, lavender, and rosemary repel moths, and some help keep flies away like mint, rue, and basil. Cockroaches don't like mint either.
It is a joy to have curly parsley, sweet basil, and tasty chives growing on your windowsill or just outside your kitchen door where they can be snipped fresh and added to salads, soups, casseroles, and sandwiches. You may also want to learn how to use herbs in remedies to improve and maintain health if that subject interests you, and you can have quality, chemical-free ingredients if you grow your own in handy herb planters.