5 Things Homeowners Change Most in Their Homes
by Guest Post on Jun 21, 2021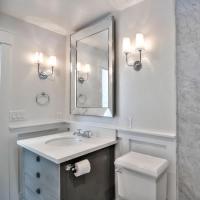 After purchasing a new home, either by yourself or with your significant other, it is common practice to change and renovate key areas around the house to make them more appealing and functional for your needs.
This can be such an exciting time for new homeowners as it is a special moment where you are able to come up with your own interior design ideas to reflect your personality. Having the ability to mold and change the spaces in your home to fit your needs is fun and rewarding. Your home is a space to relax, and changing a few elements of your home can make all the difference from a home that is cold and outdated to a home that is cozy and modern.
Interior Dutch Doors
Install interesting doors throughout your home for both decorative purposes and functionality. Dutch doors were widely used in the colonial era as it worked as both a window and a door. You have the ability to open the top off of your dutch door to let the breeze and sunlight in, instantly creating an additional window in your space. The ideal place to install a dutch door is in your kitchen, especially if it faces a backyard. This is such a charming way to add character to your kitchen. You can also add an interior Dutch door that can separate rooms and does not lead outside. If you are worried that it will look a bit too traditional, you can actually get these types of doors in super modern styles that you wouldn't normally expect.
Updated Bathrooms
Homeowners also opt to get their bathrooms repaired or even completely renovated if there are issues. The bathroom is definitely a space that is very private and also a place that you will spend quite a lot of time in. Make sure that the way the bathroom is laid out makes sense for you. It can be one of the most important aspects of a home. Ensuring that the plumbing is up to code is, obviously, is one thing to consider; however, the overall aesthetic of the bathroom should suit your needs.
What this means is that if you are a very minimal person in the products that you use to get ready in the morning, then a lot of counter space might not matter to you. However, if you are someone who enjoys having lots of beauty products and even storage for hair tools or first aid kits, etc., then you might want to think about changing out a few things if they don't already work for you.
Enjoying your space is key to falling in love with your home, and after making such a large investment for your future, you should feel encouraged to update and create whatever interior design ideas that come to mind regardless of whether it's in the bathroom, kitchen, or living room. Your home should be a reflection of you and the things that you love!
Kitchen Cabinets
Updating your kitchen cabinets is a big one. You might have purchased a home that is a little dated and more traditional than your liking, but it had so much charm that you felt strongly you could transform the problem areas into spaces that you'll love in the end. Updating your kitchen cabinets might be something you can relate to and also do on your own very inexpensively. It is extremely expensive to switch out all the cabinetry for brand new ones, and, luckily, the trend of repainting older traditional style cabinets is becoming more and more popular. You can use different paints, like chalk paint if you are going for an all-white, bright, and streamlined look. You can even switch out the hardware and find beautiful knobs for your cabinets at really affordable prices.
Flooring
This is also related to point number three, in that you find you love your traditional home but definitely want to modernize the inside. Switching out the flooring to a hardwood or the currently popular grey wooden flooring is a great investment to make. Installing flooring that is going to last the test of time and won't need to be replaced in a few years is one thing homeowners usually change.
Lighting
Changing out the lighting in your home to more economically sound bulbs like environmentally-friendly LED lights is another thing homeowners change the most in their homes. Why not save money rather than wasting it with incandescent light bulbs.