Foods That Attract Certain Species of Birds
by Dan Eskelson on Apr 28, 2012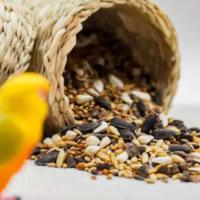 To attract birds, especially cardinals, chickadees, titmice, nuthatches, woodpeckers, grosbeaks, and towhees to a new feeder, mix peanuts liberally with seed and watch how quickly they respond.
Sunflower Meats attract redpolls, chickadees, cardinals, nuthatches, titmice, goldfinches, and pine siskins.
Shelled Peanuts attract cardinals, woodpeckers, nuthatches, grosbeaks, chickadees, titmice, and towhees.
Thistle, also known as niger, attracts finches, redpolls, pine siskins, juncos, and Indigo buntings.
Safflower attracts cardinals, chickadees, and titmice. Starlings, grackles, and squirrels don't like it.
Thistle Gold attracts goldfinches, purple finches, pine siskins, redpolls, and juncos.
Yellow corn attracts ducks, and geese; squirrels like whole corn; songbirds eat cracked corn for energy in colder weather.
Millet attracts pine siskins, chipping, song, field, fox sparrows, mourning doves, juncos, and purple finches.
Peredovik Sunflower (Black Oil) attracts cardinals, chickadees, finches, grosbeaks, crossbills, nuthatches, titmice, and all your favorites. Most favored bird seed.
Finches Favorite attracts all finches, chickadees, and nuthatches.
Wild Bird Mix attracts most songbirds that like sunflower and peanuts.