Basic Concepts: Line and Form for Landscaping
by Dan Eskelson on Apr 29, 2012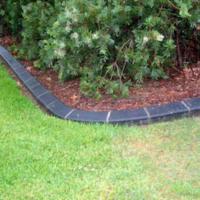 This will be the first in a series exploring the fundamental design principles used in the creation of landscapes; many of these concepts are common to other forms of creative expression - painting, sculpture, and music...the art of landscape design seeks to create a functional, unified and aesthetically pleasing outdoor environment.
Other creative elements employed in landscape design include color, texture, scale, symmetry, proportion, rhythm, and repetition; all are dependent on each other and must be considered together to produce a unified design. Unlike most art forms, seasonal and long-term changes in form, color, and other elements must be considered. The line is created in the landscape by existing patterns of structures, hardscapes, planting beds, and plant material. Line influences how the eye moves through the landscape - horizontally along walks and planting beds and vertically up and down plant forms and structures. The line is also created by individual plant shapes (i.e. branches, leaves) and how various plant shapes are arranged.
Straight lines are perceived as formal ad structural; curved lines are perceived as natural and relaxing. Straight lines will lead the eye more directly to a point than curved lines. Thus, the line will influence the "mood" of the landscape and should be considered with the overall intent or theme; the vast majority of new landscapes utilize more curved lines to offset the very structured elements of architecture - and the very structured quality of modern life! Closely related to the concept of line is form, which may relate to an individual plant, or the arrangement of plants in the landscape. Plants are classified as upright, columnar, spreading, weeping, pyramidal, round, etc. - a plant grouping may also be described using these terms.
The form of structures should also be considered, as well as the relationship between this form and the form of adjacent plants. Forms may complement or contrast; we may use tall, columnar plant forms around a building with very steep, projecting roof lines to complement the architecture. Or it may be desired to contrast these vertical architectural elements with low, spreading forms. There are no strict rules for the use of form, but it's important to consider the effects that form exerts on the total landscape design.
Again, remember that plant forms change over time; the specific purpose of a form should be considered in terms of mature size; though the landscape may seem sparse at first, growth will produce the desired effect. Examples of over-planted landscapes are common; to achieve a "finished" look, too many plants are installed, resulting eventually in a congested, unappealing landscape. We'll continue this discussion of the basic concepts of landscape design in the next issue; if you have any questions or comments, feel free to contact me.