5 Easy DIY Projects to Improve Your Yard
by Guest on May 8, 2019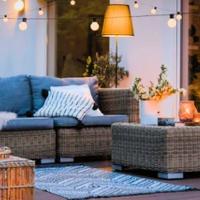 Are you happy with your yard? When your neighbors come over, will they be impressed by what they see? If you feel your yard could be improved, with a little effort and a little imagination, you can give it a whole new look.
Here are five ways to spruce up your area:
Make It More Colorful
Adding color to any space makes it joyful. Your flowering plants and flowers do exactly that, but of course, it takes a little effort and perhaps some months before you see the results of your labors. Putting plants in colorful pots is one way of adding color. You can also spray paint concrete blocks and use them as coffee tables or as supports for plank benches. Think color as you look around. There are so many spots where you can add some color accents.
Add More Lights
When the sun goes down, your yard may look a little drab. Outdoor lights can bring back the sparkle without being distracting. Just wrap them around a tree or along the fence. Alternatively, you could make a centerpiece on your yard table. This is a lot more convenient than having to light candles, although that is a romantic alternative.
Create Pleasant Sitting Areas
Is there a place in your yard where you can sit and relax? Create your own somewhat private nook with a small table and a couple of chairs. There are so many ways you can make that private space your own. With luck, you will not be disturbed while you breathe in nature.
Hide Your HVAC System
Perhaps in your yard, there is an HVAC unit that takes away from that natural feeling. You must allow space around it to ensure adequate airflow. However, there are several ways you can hide your HVAC system. Growing the right plants will take a little time, but it is a natural way of creating a visual barrier. 
If you want results more quickly, you can erect a lattice wall. Planting climbing vines to cover this lattice can create an attractive feature in your yard.
Add Multiuse Storage
You may find you have no handy place to put the items you use in the yard. It is not very convenient to have to bring them from the house or to go to the garden shed if you have one. A storage chest that also functions as a seat is a great place to put these items. If you have a large cask or a bucket, then this can be both support for a tabletop and a place to store items used often in the yard. Spray painting can also add an extra pop of color.
The Final Result
By selecting the right projects, you can be sure you'll be hearing compliments from your neighbors and friends when they visit your yard. They may be intrigued by your creativity and even ask if they can steal your idea. Little will they know that it only took a little thought and effort to make some eye-catching changes in your yard.