The Art and Science of Pruning: a Short Introduction
by Dan Eskelson on Apr 30, 2012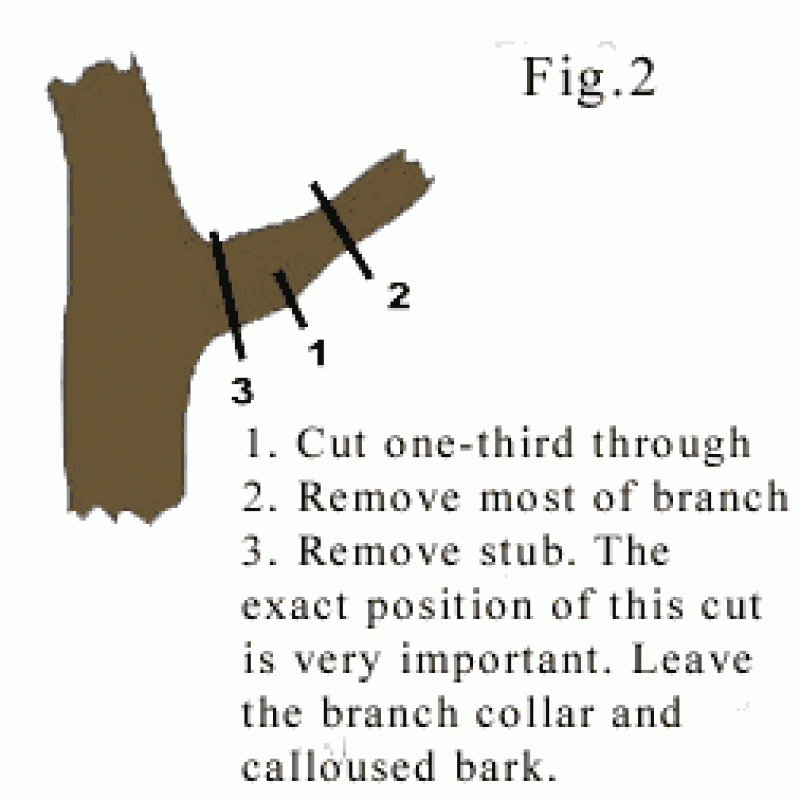 Please also visit part 2, The Art and Science of Pruning
Most landscape plants need regular pruning, whether to preserve a loose, natural form or to create tight,compact shapes. Each tree or shrub has its own, unique pruning needs, depending on variety, soil type, exposure, and desired result. For instance, we prune a birch or Hawthorne for ornamental value, but prune an apple or plum for fruit production; basic pruning rules apply to both, but final techniques and results are vastly different. Each plant will change its pruning requirements from year to year.
The "art" of pruning seeks to create a mature form throughout several seasons - or several decades - it is an art not to be hurried. The "science" of pruning requires knowledge of plant types, growth habits, flowering or fruiting characteristics and the mastery of a few important skills.
Pruning stimulates and directs growth, maintains plant health and creates a form to support the "crop" (foliage, flowers or fruit). Two basic techniques, heading back and thinning are used to create form. The desired form for standard-size fruit trees and many ornamentals is a vase shape, with four to seven strong, well-placed "leaders". These leaders from the framework which holds future growth. In contrast to the vase shape, dwarf and semi-dwarf fruit trees and some ornamentals are pruned to a central leader, or modified central leader form. The early shaping of young trees and shrubs is extremely important for the development of a strong, well balanced framework.
Any cut made to a small branch must be made just above a bud.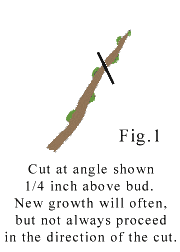 This heading back influences the form of the plant by directing growth according to the position of the bud and by stimulating growth below the cut. Thinning creates form by removing entire branches. On vigorously growing plants (apples and many others) thinning is required for most of the plant's life. With yearly pruning,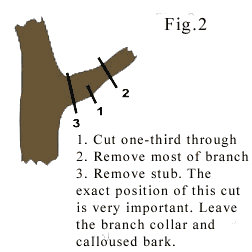 however, thinning of wood older than one year is seldom required. If larger, saw cuts are necessary, follow the procedure.
Although many plants are pruned during dormancy (winter-early spring), several important exceptions exist. Shrubs which bloom in early spring (rhododendron, azalea, forsythia and others) have developed flower buds the previous season and should be pruned shortly after bloom. Maples will "bleed" excessively if cut in early spring and are best pruned in fall. Evergreens are pruned shortly after the full development of the new season's growth.
Pruning maintains plant health by removing dead, diseased and damaged wood. Diseased wood should be removed from the site immediately; in severe cases such as firelight in pears, the cutting tool must be dipped in a weak bleach solution after each cut. The importance of proper cutting techniques cannot be overemphasized. Well built tools, with razor-sharp edges, must be used; a ragged cut will not heal, leaving the plant susceptible to rots and disease. For the same reason, cuts must be made at precisely correct locations. Do not use tree paint or any other sealer on pruning cuts.
The above guidelines are meant as a very brief survey of basic pruning purposes and techniques. Before making too many cuts, the aspiring pruner should first attain further knowledge through reading and/or lessons from an experienced landscape professional. This fascinating art and science is well worth the time and energy invested in learning.