Remodeling with Safety in Mind
by Guest Post on Feb 12, 2010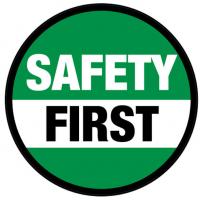 Remodeling can be a time consuming and stressful time in the life of any homeowner.  There are the jobs that start off being small and simple but quickly become enormous and complicated beyond all expectations.  Then there are the jobs that will knowingly be more challenging that become so overwhelming that a professional contractor must be called in to help.  It can surely be a trying time, but the number one consideration during remodeling must be to keep safety in mind.
Personal Safety
Personal safety must be the number one goal of any homeowner doing remodeling work.  Proper safety equipment is essential.  Never should a remodeling project be started without proper eye protection.  Glasses or safety goggles are critical to ensuring that the eyes are protected.  Everything from slivers of glass from a broken window to shards of fiberglass during insulation work can find their way into the eye.  No home improvement or remodeling project is worth permanent eye damage.
Heavy-duty, form fitting gloves and ear protection should also be considered.  Any work being done with a saw or power drill creates a large amount of loud noise.  Counteract the noise and protect hearing with ear protection that is specifically designed for contractors and do-it-yourself homeowners.  Gloves should always be worn when installing insulation, carrying lumber or doing work that could result in damage to the hand. 
Safety of Others
Remodeling a home affects all of the home's inhabitants.  From humans to pets, each will be affected in some way.  In a home with children it is essential that all safety precautions are followed.  Unplug all equipment, store it out of sight and reach, and protect children from the areas being remodeled.  Adults may know instinctively to step around a broken tile on the floor, but a child may not be as aware of the danger.  Dogs and cats should also be kept out of the area being remodeled.  They can easily ingest something poisonous or harmful if paint thinners or other materials left in the work area.  Sweep up spills, debris and trash after each day's work to ensure that the area is as safe as possible when you leave it.
Safety of the Home
Beyond the safety of those living in home or working on the project, it is important that the home itself is kept safe as well.  Always make sure that the home and the area being remodeled are locked and secure when leaving the space.  A tarp or other type of weather-protective covering is also essential if the area being remodeled is exposed to the elements.  Security and safety will be key to making the remodeling project run smoothly and on budget.
Safety must be the first priority in a remodeling project.  No amount of added home value can compensate for personal injury or injury to others in the home.  Take the time to plan properly and invest in high-quality safety and personal protection gear before beginning any home remodeling project.