Save Water by Using Drip Irrigation
by Guest on Apr 30, 2012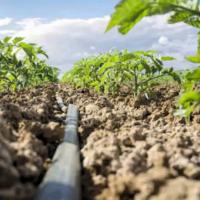 For several years I have been encouraging my design clients to use drip irrigation for their planting beds. Recurring drought in many parts of the country has made us reconsider how we use one of our planet's most valuable resources. The following is a brief introduction to the basic principles and advantages of drip systems.
The term "drip irrigation" describes the application of water not only by drip emitters but also by micro sprays. Both of these have two traits in common: they operate at low pressure, and they deliver a low volume of water compared to standard sprinklers.
Because the water is applied slowly on or near the ground, there should be no waste from runoff and little or no loss to evaporation. You position the emitters to deliver water just where the plants need it; you control penetration by varying the time the system runs and/or the emitters' delivery capacity (rated in gallons per hour).
You can also regulate the volume of water delivered to each plant by varying the type and number of emitters you set up for each.
Besides water conservation, the chief advantage of drip systems is flexibility. You can tailor the system to water individual plants by providing each with its own emitter(s), or you can distribute water over larger areas with micro sprays.
The standard layout might include hookups to two or more valves and many kinds of parts. Because the lines are above ground (they're easily concealed with mulch) and are made of flexible materials, changing the system is simple: just add or subtract lines and emitters as needed.
Your drip system can be simply attached to a hose end or screwed into a hose bibb. Or, if you prefer, you can connect it permanently to your main water source.
Drip irrigation is perfect for the driest zones of a landscape. A drip system saves water because very little is lost to evaporation or runoff.
By delivering water slowly and directly to a plant's root zone, drip irrigation promotes healthy plant growth. Water savings can easily be 50% or more versus traditional sprinkling. Drip emitters are well-suited for most xeric trees, shrubs, and perennials.
Keep in mind that sprinklers and drip emitters apply water at different rates (measured in gallons per minute and gallons per hour, respectively). It's best to put sprinklers and drip emitters on different irrigation valves. Also, a drip system requires a pressure regulator to limit pressure to the system and a filter to ensure that the tiny emitter openings do not clog.
One of the most interesting drip products developed recently is a dripper line with built-in, self-cleaning emitters spaced from 12" to 24" apart depending on the types of plants being watered. The line can be placed above or below the soil surface.
If you're installing a new landscape, or just a new shrub bed, consider using drip irrigation - you'll save a lot of water and energy and your plants will be healthier. For more information on drip systems, and anything else related to irrigation, see Jess Stryker's excellent tutorials at: http://jessstryker.com