Creating Your Landscape Site Plan - Part 2
by Dan Eskelson on Apr 30, 2012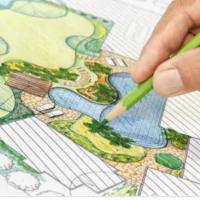 Please also visit part 1, Creating Your Landscape Plan
The last article, Creating Your Landscape Site Plan, described how to draw your site plan and evaluate the conditions specific to your site. Don't underestimate the importance of this step: a thorough understanding of all environmental factors is critical.
For example, in the north, you probably need to know from which direction the cold winds come in winter; you may be able to create a windbreak or shelterbelt of plant material to help keep your home warmer. In the south, you will be more concerned with establishing sufficient afternoon shade and taking advantage of any cooling breezes. Yes, careful placement of plants can channel breezes to where they'll do the most good.
The above are just two examples...there are *many* other factors to consider as you place your softscape and hardscape into your landscape design.
There are several techniques for actually drawing your design. One of the best is using tracing paper over your site plan. Using your knowledge of plant forms and size, or a database that provides this information, draw your plants and hardscape elements on the tracing paper...you probably won't be satisfied with the first result, so simply use another piece of tracing paper. Just sketch the items to scale...don't worry about beauty. You can save your copies to evaluate the benefits of each version.
Another popular method is to create several cutouts to represent plants and hardscape items. These can be moved around on the site plan in various configurations...when you're happy with the results, pencil in the locations.
Don't rush this process - and keep in mind all the site-specific conditions...wind directions, topography, sun angles, your preferences, etc. It's a mind-expanding process! You'll find that several design sessions will produce much better results than trying to do it all at once. Share your work with other family members - they may have insights you would overlook.
Please also visit Creating Your Landscape Site Plan Part 1 of this article.