Organic Fertilizers
by Guest Post on May 1, 2012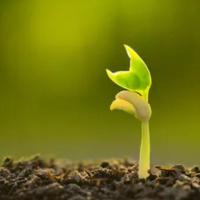 There are a lot of discussions these days about the merits of organic fertilizers. The benefits of natural fertilizers such as manure and compost have been known for years. However, it's been a costly proposition to produce and distribute organic fertilizers. Chemical-based fertilizers are known to be cost-effective and can accurately supply plants with the proper balance of Nitrogen, Phosphorus, and Potash (NPK). With much attention to application methods and proper crop rotation, they can be very effective.
At first glance, it seems like the discussion would end right there. Cost efficiency and effectiveness, case closed.
But, of course, it can never be that simple. As Paul Harvey might say, "in a moment you're going to hear the rest of the story"
First, let's consider organic fertilizers. Organic growth is based on the theory that plants should grow in a chemical-free environment, just as they do in nature. A study of some of the richest soils in the world finds that they are teeming with microscopic life. Humus or living soil is the perfect growing environment for plants. Not only do plants thrive in this environment, but they are also healthier and less stressed. Less stress means that they are better able to fight diseases and pests. Organic soils are naturally aerated by the microbes living within, and therefore hold more water. These organisms create what has been tagged the "Soil Food Web" The Soil Food Web is a microscopic ecosystem that breaks down nutrients and minerals so they can be made available to your plants naturally. Unlike chemical fertilizers, that tend to evaporate and leach into the groundwater, these micro-organisms retain the nutrients in their own "Food Bank" and allow the plants to use what is needed now while storing the rest for future seasons. Your plants are not only able to access the NPK they need but also the wide range of trace minerals that are so important to healthy plants.
Now let's take a second look at chemical fertilizers.
With the NPK in chemical fertilizers, we also get salt. Salt can be a big problem for your soil. Salt will kill many of the living organisms in your soil. With repeated applications, your soil is unable to supply the plants with their basic needs. Soon you have plants that are solely dependent on the fertilizers, not the soil! as your plants become stressed, disease and pests become a problem. We now need more chemicals like pesticides to battle the problems we created in the first place. As you can see, this is like a dog chasing his tail. Where does it all stop? Fertilizers, pesticides, fertilizers, pesticides, and on and on. That doesn't sound cost-effective to me.
So what is the answer? First, let's agree that organic growth makes the most sense. Regardless of how careful and conscientious we are we can never be assured that chemicals won't find their way into places they were not intended to go. Being a good steward of our environment is just plain common sense. But the question still remains; can organic growing methods produce results? ask John Evans of Palmer, Alaska if organic growing works. John holds nine world records for giant vegetables and swears the secret is in building healthy soil. Today, many people are uncovering easy and cost-effective methods that replenish our soils with billions of microbes and rebuild the soil food web that nature intended. So let's take another look at what we are doing when we grow organically. We are building our soils up with natural nutrients, creating a living soil that is teeming with microscopic organisms that are doing the job of providing our plants with the nutrients they so desperately need. We are building a soil that will sustain plants for many generations instead of just one crop at a time.
We find that our soil will hold more water, reducing the need for constant watering. We find healthier, less stressed plants that are strong and able to use their natural mechanisms to fight pests and disease. We are growing nature's way, using only organic, environmentally friendly soil additives that provide us with more nutritious plants for human consumption. We eliminate the risks that come with chemicals, both to ourselves and other creatures in nature. The benefits are many and the alternatives just don't make good long-term sense. Your choice of fertilizers really should be an easy one. Growing organically is a win-win situation. Do your homework, and learn what is happening in and to your soil. I think you will find that organic fertilizers are better for our environment, more productive, and very cost-effective.