The 10 Fastest Growing Trees You Should Know
by Guest Post on Aug 8, 2013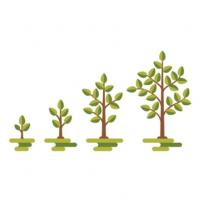 Are you having an idea of keeping a full blooming tree in your front yard or backyard where you can spend some idyllic time in the noon or mornings – possibly with a cup of coffee and your favorite magazine? Well, here you have the top 10 fastest-growing trees.
Crape myrtle
Much as Crepe paper and crape myrtles sound similar – it is the common property that they both share that makes it even more resembling. Crape myrtles are very delicate just like your craft paper with flowers that can be in the shade of pink, red, white, or purple. They are the evergreens and flower year-round and survive in the south where they get the apt temperature from July to September.
Dawn redwood
Also considered as the fast-growing, deciduous tree, Dawn Redwood is coniferous and thrives in waterlogged soils. The tree produces small, light brown cones with soft, needle-shaped leaves which become orange or brown when they fall.
Empress tree
You might not want to wait for a decade to get a large flowering tree for the Empress Tree, just as the name suggests grows like an Empress and shoots right up and is fast growing with dangling panicles of foxglove like blooms even before they actually foliate. The delightful and rich scent and marvel will make your areas appear like a kingdom.
Leyland cypress
Cypress is the best alternative for a privacy fence and that too grows naturally. Each will quickly grow and look similar to others – thanking its compact and symmetrical cone shape for about 3 feet per year. Just make sure you are mentally prepared to prune it.
Lombardy poplar
Being one of the fastest-growing, Lombardy poplar is the fastest and grows at a pace that seems to appear it is touching the heavens directly – all you have to do is climb it. And like all other deciduous trees, turns a golden-orange giving the foliage a resplendent color effect. The only sad side is that they are short-lived.
River birch
Forever being appreciated for their property of being papery and peeling layers of bark, the River Birch comes as no exception. Distinctively curling with blackish bark, the River Birch varies to grow into shades of orange, gray, and lavender.
Sweet gum
Sweet gum grows fast with a conical shade and glossy green foliage. Leaves have the typical maple color when they are set to fall giving them a very royal shade. Yellow-green flowers blooming in spring are not conspicuous but watch out for the spherical fruit clusters – they are spiky!
Tulip tree
Very difficult to see from the distance, the tulip tree's unique before summer flowers can really deck up your backyard. The wax-like cup-shaped blossoms have six greenish-yellow petals consisting of orange bases. But hold on – flowers won't show up until they are 10 to 12 years old.
Willow
The beauty that willow attains of classic tastes is achieved from the weeping willow – as its popular name because of the fuzzy catkins of the pussy willow. It consists of more than 300 specimens and are fast-growing trees and can actually produce beauties.
Japanese zelkova
They are often confused with elms and the Japanese Zelkova are a league of their own. They are fast-growing and vase-shaped trees producing elliptical dark green leaves in spring that turn into shades of yellow, orange, and red as they fall.