How to Choose Tile
by Guest Post on Sep 15, 2011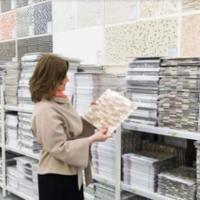 The hardest part of the tiling is choosing the color, finish, type & pattern. It is a common agony many of us go through in the pre-tiling stages. There are plenty of websites offering instruction on the mechanics of cutting & setting tile without acknowledging the tortuous journey of getting past the sales counter.
Here are some simple tips that will lower the decision stresses and make shopping for tiles less daunting.
Good planning is good tiling.
Take samples from the store and experiment with different tile patterns. Use a representative quantity to truly get the idea of the final look.
Draw out and plan of how the cut tiles will place in the corners. Try to avoid less than a half tile in those areas.
There are two kinds of cuts:

Folds: Imagine the tile is made of paper and it folds around a corner... better for pattern tile.
Short tile: Cut as an abrupt finish works better on Non-Pattern tile.

Measure & plan where faucets, spouts, brackets, and shelves need to be placed. Choose a tile size that allows you to grow a hole from the edge of a tile then place a hole in the middle.
If mid tile holes are unavoidable diamond hole saws are available.
Pencil your square and plumb lines in the middle of the area to be tiled. Choose a tile pattern that best fools the eye if things are not quite as square as they should be.
Create a cut list mapping out just how many cuts will be generated by your choices. Less is more in many cases.
Lay out your tile plan the tricky cuts.
Under-floor heating is an amazing upgrade to a floor, don't be overwhelmed by the electrical. Install the tile over the floor element run the wires to a convenient location and terminate you can connect anytime later.
Special cases Bevel edge subway looks great but cuts in corners can look ugly. Plan for whole square tiles in that position and then work outward or away from the corner.
Color
Keep in mind florescent lighting gives a modified color tone to that of daylight.
Darker tile colors show less dirt, especially for floors.
light tile colors are better in showers hiding soap splashes.
Grout color samples seen in the store are vaguely representative of the actual dried finished color. Consider not matching grout and complimenting tile color with a bold grout line accent.
When considering glass tile use a light color thin set. On larger glass tile air bubbles are visible as darker spots remember to fully back butter.
There is always some variability of color in tile, buy your quota plus 10% to be sure of color consistency.
Size
Size does not matter however time spent cleaning might. Bigger tiles are easier to clean.
The thickness of tile is not reflective of quality, but be aware of the class of tile and its appropriateness of use. Some tiles are good for walls and not floors.
Look
Tile surface finish plays an important safety roll when considering a flooring project. Seek advice from your supplier.
If your shower uses a larger tile and the last row is greatly reduced in height consider an accented row of another style and height to soak up the problem.
If the edge of a tile is visible such as on a window ledge or countertop. Look for full glazed tile that brings the color over to the sides or insert a bull nose section ( ¼ round). Remember tiling is an imperfect art.