5 Ways Hiring a Plumbing Service Can Benefit You
by Nick Marr on Nov 26, 2021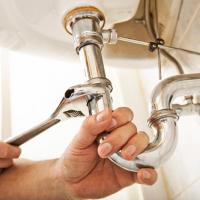 Living in a home with your loving family is one of the best things you can experience in your life. But as you live, your home will need maintenance from time to time. Focusing on enjoyment all the time and neglecting the issues that arise in your home will come with dire consequences.
It is therefore important that you hire a plumber whenever you have to fix something in your home. Most people think that they don't need to hire a plumbing service and can follow the DIY route, but this approach won't provide you with the best results.
Do you want to know why you should hire a plumbing service? Keep reading this article to find out why plumbing services are more important than you think. 
1.Your personal safety
Remember that a DIY approach can never be safe for you. No matter how interested you are in fixing things yourself; if you don't know about the safety guidelines, you will end up making a mistake.
It's always better that you first focus on your personal safety instead of feeling that you can do it all. Hiring professionals allows you to stay safe as they know how to do something without putting themselves or others in danger. Professional plumbing services also have licenses that allow them to do their job the right way.
2.Reduce the costs
The DIY route is not as affordable as most people think. If you go into the market to buy tools before you can fix some problem in your home, you will have to spend more money than you thought. Hiring professionals, on the other hand, doesn't come with such problems.
Professional plumbers already have all the tools that are necessary for a job, and they use the tools the right way and can reduce the costs of a project with their expertise. Working with a professional also saves you from the damage that might occur if some amateur person does the job.
3.Work with professionals
No matter how many videos you watch on YouTube to fix some problems in your home, if you don't have any prior experience of fixing that problem, the chances are that you will end up making a great mistake.
Working with professionals, on the other hand, saves you from such problems. You don't have to instruct professionals about how they should do their work. All you have to do is fix an appointment with them; they will visit your home and fix the identified problem as soon as possible.
4.Keep your property safe
It's possible that you might end up disturbing something in your attempt to fix a problem at your home. Remember that you are not a professional, and it might become impossible for you to fix the problem with your limited knowledge. It can result in damage done to your property.
Therefore, if you don't want to make the problem worse, the only choice you have is to hire professionals for your needs.
5.Your peace of mind
Hiring professional plumbers means that you don't have to worry about anything. They will be tasked to find solutions to the problems that are present in your home, and you will not have to worry about buying the tools or equipment that will be required to get the job done.
Another good thing about hiring professionals instead of going the DIY route is that it allows you to get the problems fixed on the weekends, and you will not be required to disturb your schedule to get the job done all by yourself.