Top 6 Things to Look for When Hiring a Professional Plumber
by Nick Marr on Jul 21, 2022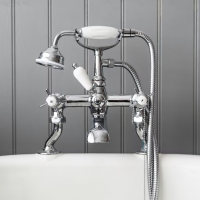 Whether you need to replace bathtub faucets or unclog drainage systems and kitchen sinks, a plumber does it all. However, look for a professional plumber who can perfectly fix the issues to avoid frequent and costly repairs. To choose the best, consider these six factors when hiring.
Proper Certifications and Accreditations
Before you engage any plumber or plumbing company, request their credentials. Any reputable and certified plumber should willingly show you a copy of their licenses, certifications, insurance, and bond. You must confirm that all the documents are current, as a few plumbers can even present to you expired working licenses.
Check if they are registered and have certifications from specific organizations. Examples of these bodies include The National Association of Plumbing-Heating-Cooling Contractors (NAPHC), or The Department of Business and Profession Regulation.
Availability
You need to know if the plumber can be available to serve you any time you urgently need them. They should assure you of a 24-hour emergency call-out service, just in case a water pipe decides to burst or break in the middle of the night. While most plumbing services are available up to Saturday, you should look for one that can work on your urgent plumbing problems on a Sunday. 
Pricing Method
Each professional plumbing company has its pricing method you need to know. Some charge per hour, which can be ideal if you know the time it will take to complete the project. Other plumbing companies work with milestones, where they only charge you for the completed work.
Responsible and Locally Owned
Local plumbing professionals are quick to respond, as they don't need to travel from far to get to your place. Additionally, it is easy to verify their credibility and check out some of the plumbing work they have done in the area.
A professional plumber should also have all the necessary tools for the job and clean up the area after fixing the various plumbing problems. If you find your kitchen in a mess after a repair, know your plumber is irresponsible and unprofessional.
You should look for a professional plumber that's insured and bonded. That way, you won't have to worry if there's an injury or damage to your property while the plumber is doing their job. 
Job Warranty 
Like the plumbing tools that come with manufacturer's warranties, the quality of plumbing services and labor need a guarantee too. A reputable plumber should provide you with a warranty that guarantees quality work and service. 
Years of Experience 
Plumbers who have been in the industry for a while understand their craft well and know the right tools and materials to use for the job. Most of them also provide multiple services, such as installing, maintaining, and repairing plumbing systems.
Don't wait until you get a plumbing emergency to hire a plumber. You might not choose the most suitable one while in a hurry. Take your time to research and compare various options. Then, choose a reputable plumbing company that will handle all your plumbing needs.