Landscape Designer vs. a Landscape Contractor - Part 1
by Guest Post on May 2, 2012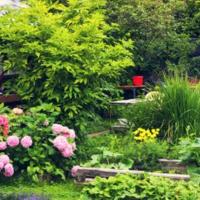 Please also visit part 2, Landscape Design
Whether you have a small backyard or an acre estate, the right landscape plan can create an outdoor masterpiece. Starting with a professional landscape design enables homeowners to begin their project right, whether they intend to do all the work themselves or hire a professional landscape contractor. A designer can help you assess your immediate and long-range goals and desires. This includes practical suggestions about everything from where to put a patio, what plants should go where, and to what degree of maintenance is involved.
You may ask why hire a Landscape Designer if I plan to hire a Landscape Contractor who includes this as part of his service? a designer will work with you to design a yard that best meets your needs, lifestyle, preferences, budget, and timetable. A Landscape Designer doesn't profit from designing more expensive landscapes, so they won't try to convince you to install an elaborate brick patio when a simple brushed concrete one will do. Also, when you work with a designer, you own the landscape plan. This allows you flexibility. This flexibility allows you to hire professionals, or do some or all of it yourself in stages as you can afford it.
Landscape Designers are not expensive if you look at the overall cost involved. Having a plan in advance expedites the bidding process, because each landscape contractor bids on EXaCTLY the same material, plants, etc. Again, remember that Landscape Design isn't trying to sell you something you don't need, because they don't profit from expensive landscapes. This could potentially save as much as the Landscape Designer's cost, however, this is not always the case. If you plan to do some of the work yourself, a plan will save you the frustration and disappointment of expensive mistakes.
Before contacting a Landscape Designer, you might want to have a basic idea of what you'd like to accomplish, but skilled questioning by the designer to help determine even your hidden wants and needs is a very important part of the process. They will discuss the full range of choices and options open to help you make informed choices about Everything from pools and spas, decks and patios, drainage, lighting, and irrigation, to trees, shrubs and flowers. With so many options available, professional guidance can help you make your best choices.
Consider your everyday usage and setting of the yard / estate. Will future growth potential possibilities like children be a consideration when creating your final design?
A good Landscape Designer will come to your home to give you an estimate. You should review a portfolio of photos and sample landscape plans and referral letters to ensure you are working with a reliable and effective designer. The price is determined by how elaborate the design, and the size of your yard.
Landscape Designers are a great referral service for the final Landscape Contractor. Don't be shy to ask who they recommend doing the landscaping.
Your landscape is an extension of your home. Invest wisely and you will enjoy the rewards both now while you live there and later when it is time to sell.
Please also visit Landscape Design Part 2 of this article.