Landscape Designer vs a Landscape Contractor - Part 2
by Guest Post on May 2, 2012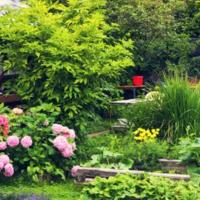 Please also visit part 1, Landscape Design
The most important quality for a landscape designer is "qualification." Not whether the person is a "designer" or a "landscaper" or a "gardener" but pure and simple qualification built on education, experience, and ability. In Oregon, where I work, we see bad designs provided by landscape designers, architects, and landscapers. We also see each facet produce good designs. Usually, the main disabling factor for design ability is a lack of in-the-field work experience - planting, digging, replacing, raking, rolling, mulching, etc.
There is no replacement for this needed work experience if you want to excel in the field of design. Outside of book knowledge, the number one skill will be pruning. Knowing it and practicing it. If there is no pruning solution for each plant in a landscape, then the design cannot be preserved. This is not to say that other matters like soil knowledge are unimportant.
but many plants will grow in good and bad soil. The fact remains that those plants can grow, and grow, and grow. And that growth must be directed with skill and precision. The main criterion for judging a good landscape design from a bad one will be the projected life of the design. If the installed design can't be pruned and maintained for more than a few years, it's a failure. So longevity is the real "acid-test" of an award-quality design.
In Oregon, we only have two legal avenues for licensing in the landscape field. Landscape Contractors, and Landscape architects. Those are the only 2 fields that have licensing boards that test and issue licenses. Our Oregon Landscape Contractor and Landscape architect laws allow each group to design or plan. The Landscapers reciprocate installation to the Landscape architects, and those architects reciprocate a large degree of designing to the Landscapers. The Landscape architect test is thorough and lasts about 2 to 3 days. The Landscape Contractor test is very heavy in the horticulture category, lasts about 1 day, and has roughly a 10% passing rate. Passing either examination indicates a large degree of mental ability. These tests don't prove design ability, but they do make a statement - including certain experience requirements to sit for the examinations.
Oregon has no examinations for Landscape Designers. At most, they may have a certification or college degree for credentials. And the exception is that the designer has also taken a state test for a related license. Considering those credential options, the remaining element is experience. And that's what the consumer needs to investigate. They need to find out where the designer has been working, and for how long. Has the designer planted trees? Have they installed drain lines? Planted lawns? Yes, someone can still design if they have not raked leaves, but they will be limited by a lack of that experience.
When someone rakes a lot of leaves, cones, and pods, they will strongly retain the experience - the experience that proves which trees drop the good, the bad, and the ugly. So if you want to be a great designer, get some great work experience. And education! I am a firm supporter of college programs. Whether it's a few classes or a few years, attend as much as you can afford and apply.
Follow Up article was submitted by Mario Vaden of M.D. Vaden Trees & Landscapes
Please also visit Landscape Design Part 1 of this article.