How to Keep Your Home the Perfect Temperature Year Round
by Guest on Sep 16, 2013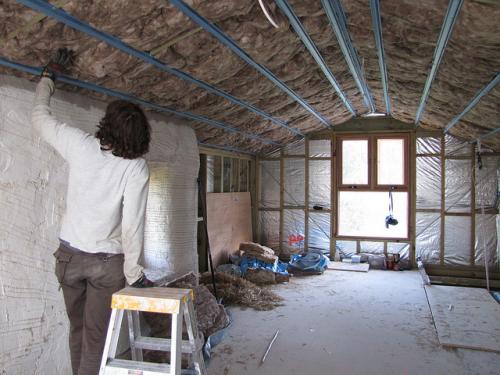 Throughout the year, temperature changes can suddenly cause your home to become uncomfortable. Although many temperature changes may simply be inconvenient, there are times when drastic changes can potentially be life-threatening. Fortunately, to help keep your home the perfect temperature throughout the year, here are 3 tips:
1. Have a heater and air conditioner handy
To ensure that everyone is happy and safe, you can use heating and air conditioning to keep a comfortable temperature for your home. Using portable units are very helpful when you don't need to heat or cool the entire house every minute of the day. However, when choosing new space heaters and air conditioners, just be sure to look for energy-efficient models to help reduce energy costs.
When using an air conditioner, it is important to regularly maintain the unit to help keep it running smoothly. Unfortunately, even just having a dirty coil can potentially raise your bill by 30% percent. Fortunately, by having a professional regularly maintain the system, you can ensure sufficiency and help reduce running costs. If you properly maintain a central air conditioning system, it can potentially last for 15 years.
2. Properly insulate your home
To help maintain a comfortable temperature throughout the year, you need to ensure that your home is properly insulated. Unfortunately, many older homes don't have enough insulation to efficiently keep heat trapped inside. Fortunately, you can still add more insulation to your home to help keep you warm.
Another great thing about properly insulating your home is that you can potentially reduce energy costs. While insulating your home can be an expensive task, many experts say that homeowners will easily make the money back with how much they will save on utility bills.
When insulating your home, it is also important to check for any drafts. By sealing gaps around doors, windows, as well as cracks in the walls or floors, you can help keep your home warmer. You can even purchase draft protectors (or draft stoppers) for the bottom of the doors as well to help keep cold air outside.
3. Cover your windows
One of the most simple ways that you can control the temperature in your home is by tending to the windows. For example, you can purchase heavy curtains or blinds to help keep heat in during the winter and out during the summer.
If you have more money to spend, you can consider installing double glazed windows. Double glazed windows are designed to offer better protection than single-pane windows due to having two panes acting as insulators.
Another option for protecting your windows and home is to use window tinting. Window films are designed to help block the sun from entering your home. Not only can tinted windows help keep your home cool but provide more privacy and home security as well.
With these 3 tips, you can better regulate the temperature in your home to ensure that everyone is living comfortably.
Adam Jenson is an energy expert. He frequently writes about how to live comfortably while protecting the environment on homeowner blogs.