Why Wall Fireplaces Make Great Gifts
by Guest on Nov 2, 2011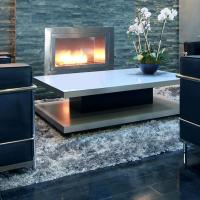 Looking for something to get your spouse, parents, a newly married couple or brand new homeowner? Wall fireplaces are perfect! Many people overlook these when they are trying to think of gift ideas but if you are going to spend money on a piece of art, furniture, stainless steel serving tray or crystal wine glasses, why not a fireplace?
Attractive
You would have a very hard time actually finding someone who doesn't appreciate the elegance that wall fireplaces bring to a room. Even a very utilitarian space can instantly feel welcoming and more comfortable when a warm dancing flame is added.
There are so many types of wall ventless fireplaces available today that it's easy to find one that complements any décor. Not to mention, they have a way of really adding richness to a room so someone on a tight budget without a lot of glamorous pieces in their space would really love to receive something that would take their décor to the next level.
Maintenance-free
Ventless fireplaces make great gifts because they are literally maintenance-free. As the name suggests no venting is required to appreciate these flames. They operate solely by electricity so the gift receiver gets all the great benefits of a fire without having to clean ash and soot, wash walls, etc. No one likes to receive a gift that's actually going to cause them more work.
Reduce Heating Costs
Electric fireplaces are perfect gifts because they offer a lot of heat. Instead of cranking up the furnace when you come in from shoveling, you simply turn the fire on with a remote. Who wouldn't appreciate a gift that's going to ultimately save them money?
Don't worry, if you think these types of ventless fireplaces are going to affect the person's electric bill, they really won't! Electric fireplaces today use no more electricity than a coffeemaker. This is heat that they won't have to think twice about turning up.
Environmentally-friendly
Do you have someone on your gift-giving list that truly cares about the environment? They will find value in a fire that doesn't pollute the air, contribute to the depletion of the rainforest or destroy animal habitat and food sources.
Unique
One of the best reasons to give ventless fireplaces as gifts is simply because they are unique. Really, who else is going to duplicate or top this gift? This is a present that will get used for many years; one that will always be a constant reminder of how thoughtful you are.
Loren Taylor writes for The Soothing Company which is a leading internet retailer of all things soothing. A large selection of water fountains, bean bags, fireplaces and other products to help bring serenity to your life.
Wall Fireplaces may be the most unique and thoughtful gifts but many people overlook giving them. They are available in many different styles and price ranges and they offer many benefits to the gift receiver. For further details, please visit Ventless Fireplaces.